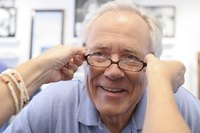 The American Board of Opticianry certifies opticians who prescribe and dispense glasses to patients. The certification is a professional credential an optician earns by meeting the ABO standards in the field. The credential ensures the professional has the qualifications to serve the eyeglass-wearing public. Employers may require that an optician obtain the certification to make and dispense eyeglasses.
Basic Certification
Opticians can earn a basic certification from the ABO by passing a competency examination. The test evaluates the optician's ability to interpret and analyze an eyeglass prescription and identify defects and irregularities in the prescription to ensure it is correct for the patient. Opticians must demonstrate the ability to take a patient history to determine his needs. The test also includes questions regarding fitting a patient for glasses and the use of ophthalmic devices. An optician must be able to verify an eyeglass order and make corrections when necessary.
Advanced Certification
Advanced certification for an optician requires the individual to pass an examination that includes the basic certification test along with business management, human resources, customer relations, sales and marketing. The optician must attend seminars, workshops and conventions to continue to develop professionally in the field.
Masters Certification
Opticians who have advanced certifications from the ABO are eligible to take a master's certification examination and earn the Master in Ophthalmic Optics certificate. The master's certification requires that the optician complete a 2,000-word thesis that is reviewed by a master's committee. An applicant must have a basic optician certification for three years before advancing to the advanced certification.
Renewal
The certifications offered by the ABO are valid for three years before the optician must renew. The optician must complete continuing education credits during the three-year renewal period to qualify. The ABO certification requires the optician to complete 12 continuing education credits in the three-year period to meet the board's standards. Applicants for renewal may retake the certification examination in the third renewal year to meet board requirements as well.