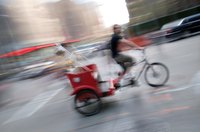 An adventurous and affordable way to sight-see around a downtown core may be to hop on the back of a rickshaw, also known as pedicab, and let the cyclist pull you to your destination while giving you a tour. Students relish in the affordability. Even locals themselves are joining the craze while gas prices soar. As you realize just how many eyes turn to see the attention-grabbing, environmentally-friendly vehicle, you may even consider the benefits of using the rickshaw for your advertising purposes. The cost is reasonable and varies based on the time of day, vehicle quality and service.
Tips Only
Rickshaw pullers recognize the supportive university culture and demand. Rickshaws, run by students, help students get to their destination in the university area with the understanding that they do not have plenty of extra cash. The rickshaw puller does not charge but makes money on tips with whatever a student can pay.
Payment on One-Mile Radius With Sight-Seeing
The simple rickshaw as a bicycle with an attachment as a seat may be ideal for local trips downtown within a one-mile radius. Tourists can enjoy some sight-seeing with an informed rickshaw puller who can narrate the area's history and main attractions. The ride can cost approximately $5 from 10 a.m. to 3 p.m. and from 7 p.m. to 1 a.m. and up to $7 during the rush hour.
Payment With Bells and Whistles
A rickshaw with all the bells and whistles of a canopy, 21-speed cycle and pulled by drivers with a motor vehicle operator license may charge from $15 to $30 for street hail rides in a downtown core. Prices vary by assignment for reserved bookings, guided tours and special bookings such as films.
Payment on Advertising
The business savvy rickshaw puller knows that she can make extra money from advertising on the attention-grabbing vehicle circling a downtown core. A business can advertise on the rear panel, front and both sides. In addition, the rickshaw puller can wear a T-shirt and cap. For an extra cost, the rickshaw puller may be willing to distribute brochures. The rickshaw puller prices vary based on daily, weekly or monthly rates.