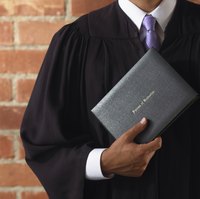 More than 1,500 schools throughout the world offer a master of business administration, or MBA, program and Forbes magazine estimates that the average MBA degree costs about $100,000. Given the high cost of this degree and the impact it can have on your career, it's vital to choose a school that fits your needs. Public schools like the University of Massachusetts, or UMass, offer high-ranking programs that cost less than those at private institutions, but still come with high starting salaries for graduates
UMass MBA Salary
According to the Princeton Review, the average graduate from the MBA program at UMass Boston's College of Management earns a starting salary of $78,500 as of June 2011. The average candidate for this program starts his MBA coursework after six years of work experience.
MBA Salaries at Top Schools
UMass MBA graduates earn less on average than those who complete MBA programs at the top-ranked private schools in the United States. According to a 2010 article in Business Insider, graduates from Stanford University earn the highest starting salary in the United States upon graduation, with a mean wage of $117,681. Harvard ranks second, with a mean salary of $114,400, followed by the University of Pennsylvania's Wharton School at $110,000. MIT ranks fourth, with an average wage of $107,990, and Columbia comes in fifth at $106,246.
UMass MBA Graduate Paths
The University of Massachusetts offers insight for potential MBA students into the typical fields where graduates find work. As of 2011, 38 percent of UMass MBA students enter the finance field after graduation, while 22 percent work in IT. Another 12 percent find employment in production and operations, while 8 percent work in sales or marketing. Roughly 2 percent find jobs in general management after completing this program.
Average Starting Salary With An MBA
In a 2006 article, Forbes Magazine reveals that the average MBA graduate in the United States earns a starting salary of $95,781. These students also receive an average starting or signing bonus of $17,511 as of 2006. MBA graduates in real estate earn an average of $112,857, while those who find jobs as consultants earn an average of $108,887. MBA graduates in financial service positions average $94,384, though they also receive an additional signing bonus of $23,000 on average. Graduates earn about $2,900 less on average than they expect to earn upon graduation.