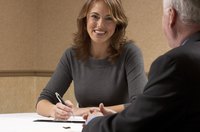 There are numerous methods and techniques for engaging more closely with what somebody is saying, and critically extracting relevant information which you can use to influence your future actions. Although critical listening techniques are useful for focusing on spoken information with an analytical ear, active listening methods enable you to positively reinforce the speaker, encouraging him to elaborate and speak with more confidence. These techniques aren't difficult to perform, but can make a great difference within information-focused interactions.
Probing Techniques
Asking additional questions is always a useful way to uncover undisclosed information from another person, but this is only true if your questions are relevant and maintain an objective, non-leading tone. If your questions appear to suggest animosity, hostility or scepticism toward the other person, your questions may actually have a negative effect: The speaker may become defensive, and only reveal additional information with increased forethought. It's suggested that your questions should avoid specifics or the introduction of previously unmentioned topics, and should instead stick to "what," "how," "why," "when," "who" and "where."
Context
Knowing the speaker's context and motivation is a vital critical skill for accurately interpreting information. Unless the topic of conversation is completely remote from the speaker's life, it's always possible that she may be influenced and motivated to portray a certain viewpoint for reasons which aren't mentioned within her speech. This technique requires you to carefully consider what the speaker is achieving for herself by revealing the information, and whether this personal motivation may have repercussions for its accuracy and objectivity.
Non-Verbal Acknowledgement
Using body language can be a subtle way of encouraging a speaker to continue on his current path, and ensure that he feels confidence and comfortable within the interaction. This comfort is useful during information-based communication, as it allows the speaker to feel less rushed and freer to make occasional relevant asides. Non-verbal acknowledgement can be achieved through open body language (where you avoid crossing your arms or turning away), consistent (but not constant) eye contact, and nodding often – especially when you understand a complex point being explained.
Summarizing
After particularly important or information-rich points have been made by the speaker, summarize those points back to her – for example: "So what you're saying is…" By putting the speaker's points into your own words, you're achieving three specific objectives: You increase your chance of remembering the information (as you're engaging more actively with it by putting it into your own speaking style), you create reciprocity between yourself and the speaker (as using phrases and information which she brought up first enables her to feel confident that she's being attentively listened to), and you ensure that your understanding of the information is an accurate and valid interpretation.