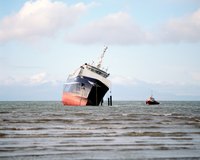 Importers and exporters routinely ship goods across international borders and thousands of miles of ocean. Buyers need financial guarantees that cargo will be delivered and sellers need assurance that they will receive payment. Both parties need protection in the event of a loss during shipment. Letters of credit and marine insurance in combination serve to protect everyone's interests.
Import/Export Financial Assurances
Letters of credit are contracts issued by banks that extend credit to a buyer by guaranteeing payment for purchased goods. It is the bank's credit that backs up the letter of credit. Consequently, when a seller receives the letter of credit, he can present it to his bank. The seller's bank can rely on the issuing bank's guarantee of payment and so can safely pay the seller. However, the buyer needs financial protection because there is risk to shipments in transit. Ships can sink and mishaps can damage or destroy cargo. The buyer thus could find herself with no goods after having made payment via the letter of credit. Due to these risks, banks issuing letters of credit require marine insurance. The insurance company indemnifies the buyer by making good on the letter of credit in the event a cargo is lost or damaged.