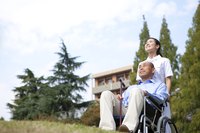 When a loved one has special needs, your estate plan has the potential for causing her major problems. If she receives Supplemental Security Income, Medicaid benefits or both, she could lose eligibility for these federal programs if she inherits from you. They're needs-based programs, so her assets and income are critical. A special needs trust offers a way around this but you -- or your trustee -- must follow certain rules.
Protecting Your Beneficiary
If you make a $50,000 bequest to your loved one, it would disqualify her from receiving SSI and Medicaid, as she would have too much in the way of resources. Eventually, the $50,000 would run out and she would have to reapply, leaving her without resources until the application is processed. In that time, she might not be able to receive necessary medical care. A special needs trust holds her bequest and metes it out in small increments so she doesn't legally own it. It can't be held against her for eligibility purposes.
How the Trust Works
You can create a special needs trust during your lifetime, forming it as a revocable or irrevocable trust, or you can provide for one in your will. If you form a revocable trust, you would typically act as trustee and appoint someone else -- a successor trustee -- to take over for you when you die or if you become disabled. Forming an irrevocable trust requires that you turn over the reins to another trustee immediately -- as soon as you create the trust entity. If you'd prefer to retain ownership of your assets while you're alive, you can make provisions for a testamentary trust in your will. The executor of your estate would create the trust and move your property into it after your death. Even if you don't have extensive property or wealth, you can purchase a life insurance policy and direct that your executor move the death benefits into the trust for your loved one's care.
What the Trust Can Pay For
Federal benefits depend on your loved one's countable and noncountable assets. Your trustee can lavish your beneficiary with noncountable gifts, but he must be very careful with how she receives countable ones. He can pay for medical needs not covered by SSI or Medicaid with no problem; these don't count. For example, Medicaid might provide her with a nuts-and-bolts wheelchair; your trust can buy her state-of-the-art equipment to make her life easier. You trustee can pay for vacations out of the trust, theater tickets, a television, a new laptop -- basically anything that would bring her pleasure. He can even buy her a car. These are all noncountable assets. What he can't do is give her money to buy groceries or to help her pay her rent. These are countable assets and would reduce her SSI benefits.
The Cash Rule
The general rule is that your trustee can purchase things for your beneficiary but he should not give her cash. She can't own more than $2,000 in countable assets and maintain her eligibility for SSI. If he gives her $1,000 for a new laptop, this is income -- a countable asset even though she turns it into a noncountable asset. Her SSI benefits are cut by the equivalent amount in the month she receives the money. But if he buys the computer and gives it to her, the purchase won't count against her.