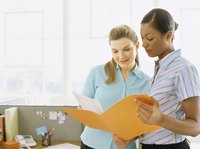 Employers can't dock exempt employee pay for working a half day or taking a single sick day. However, they can reduce pay for longer absences. Employees also may take unpaid intermittent leave under the Family and Medical Leave Act. While the employer doesn't have to pay for this time off, it has to continue to provide health insurance benefits.
Partial Days
The Fair Labor Standards Act requires employers to pay exempt employees a regular salary. Since exempt employees are paid to "get the job done," they normally need to be paid the same salary even if they work a short day or work fewer hours during a certain week. As a rule of thumb, employers must pay exempt employees the same salary as long as they perform some work during the day, even if it's just a few minutes worth.
Unpaid Days
In some situations, employers can dock an exempt employee's pay or reduce salary for the week. If the employee is absent for an entire day due to something other than sickness or an accident, the day may be unpaid. If an employee is absent for more than one day for any reason, the employer also can dock pay. Employers also may reduce pay if the employee is suspended for disciplinary reasons, or doesn't work a full week during his final week of employment.
Unpaid Intermittent Leave
The federal Family Medical Leave Act allows certain employees to take up to 12 weeks off of work to handle medical and family issues. The 12 weeks can be taken all at once, but some employees may choose to use the leave intermittently throughout the year. Although an employer may be obligated to provide an exempt employee with intermittent leave, it is not obligated to pay for the leave time. Employees can use accrued paid time off, vacation time or sick time to supplement wages during the leave period.
Benefits on Leave
While the leave may be unpaid, the Family Medical Leave Act requires employers to maintain health insurance coverage for an employee on leave. If an employee ever informs the employer that he doesn't intend to return to work, the employer no longer has to continue paying for health insurance coverage. The employer doesn't have to continue accuring other benefits, like vacation, paid time off and seniority, while the employee is on leave.