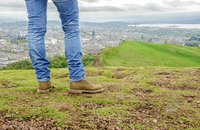 It's hard to deny the style power of a perfect pair of skinny jeans, but sometimes you just want a little more wiggle room. Like skinnies, tapered jeans narrow as they reach the ankle. But they are a bit roomier on top than the typical skinny jean, which makes them both flattering and comfortable for men and women alike.
Choose the Shoes
Choose a pair of tapered jeans in any number of cuts, including high-waist, low-rise, slim or baggy styles. Nearly any shoe style works for guys wearing tapered jeans; opt for canvas tennis shoes or classic suede bucks for a cool but laid-back look. Options for women include ballet flats or pumps. Or wear a pair of boots with tucked-in tapered jeans to up your style savvy -- and take full advantage of the flattering fit.
Determine the Top
A slim leg demands a fuller top for balance and proportion. When your tapered jeans are fitted throughout, choose a flowy blouse or tunic to complement the slimness. A shirt and blazer combo complements tapered jeans on men and women. The layers create subtle volume to balance the narrowness at the ankles.