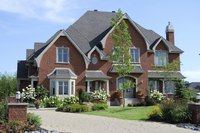 Spouses can transfer assets to each other without having to worry about triggering a tax bill. The Internal Revenue Service offers various tax breaks and exclusions to married couples. Even in the event of a divorce, the IRS allows tax-free transfers.
Property Transfers
Even if there was a gain or loss on the property, it won't be recognized if the transfer is between spouses. Property transferred to divorcing spouses is also exempt from taxation. If the transfer occurs after the divorce, it's still exempt as long as it was part of the divorce order.
Other Property and Gifts
Vehicle transfers from one spouse to another aren't taxed. Health savings account and individual retirement account transfers to a spouse are also tax-exempt. You can also give monetary gifts of any amount to your spouse tax-free, provided the gift is for immediate use. For example, if you're gifting something to your spouse for future use, such as a deposit into a trust, the gift is taxable and won't qualify for any breaks.