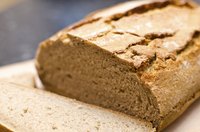 The Carthusian order of monks was founded by St. Bruno in 1084 and was built on principles of silence, solitude, study and prayer, according to Michael Mullett, author of "The Catholic Reformation." Part of this lifestyle was a strict diet that included certain foods and excluded many other foods and beverages, and these eating habits remain largely unchanged in modern times. If you're interested in following a Carthusian diet for religious or personal reasons, speak with your doctor ahead of time to ensure that such an eating plan is safe for you.
Carthusian Eating Schedule
On normal days, Carthusian monks and nuns eat two regular meals, but that changes during the Great Fast, when they only eat one regular meal per day with just a bit of food in the evenings, according to Nancy Klein Maguire, author of "An Infinity of Little Hours." The Carthusian order allows for warm liquid and a small amount of bread in the mornings, notes a Carthusian nun answering questions on the L'Ordre Monastique des Chartreux website. On Good Friday and Ash Wednesday, only bread and water are allowed, and Fridays are a day of abstinence when Carthusian nuns and monks don't eat animal foods.
Foods on a Carthusian Diet
The Carthusian order forbids meat and poultry of any kind. Carthusian monks and nuns are permitted to eat eggs, fish and dairy foods, however, except on Fridays. The midday meal usually consists of vegetable soup, fish or eggs, vegetables, cheese, butter and fruit, according to the Catholic Encyclopedia. If an evening meal is eaten, it usually consists of eggs and salad. Many people following a Carthusian diet also drink Chartreuse, an alcoholic beverage made by Carthusian monks. The beverage contains 130 Alpine herbs, and the recipe is carefully guarded. In England, Carthusian monks and nuns might drink a type of thin beer.
Carthusian Diets and Nutrition
Despite the exclusion of meat and poultry, those following a Carthusian diet get protein from the eggs, fish and dairy foods they're allowed to eat. The dairy foods also supply a good dose of bone-building calcium. In this case, excluding red meat is done for religious reasons, but diets that are low in red meat are associated with lower cholesterol and blood pressure levels, which can cut heart disease risk, according to the American Heart Association. The vegetables and fruit included in the Carthusian diet also supply key nutrients including fiber, potassium and vitamin C.
Drawback of the Carthusian Diet
Though the Carthusian diet contains plenty of nutritious foods, it might not contain enough calories, especially during fasting times and on Fridays, when no protein foods are consumed. If you're interested in the Carthusian diet, whether for weight loss or for religious reasons, speak with your doctor about an appropriate caloric intake for you to be sure you're getting adequate nutrition.