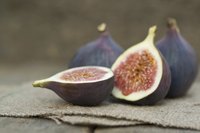 Figs come in a wealth of colors and textures, which all contain high amounts of fiber, vitamin K, potassium, calcium, magnesium and copper. They also boast polyphenols, or plant compounds, and antioxidants that reduce inflammation in your body and help prevent chronic disease.
Suppress Inflammation
Flavonoids are naturally occurring nutrients found in fruits and vegetables. Figs contain the flavonoid luteolin. Your body activates inflammatory cells to protect you from infection and heal wounds. Excessive inflammation, however, can result in chronic disease, such as arthritis, cancer and lung disease. Luteolin suppresses inflammation by halting the activation of inflammatory cells. According to a review published in 2009 in Current Cancer Drug Targets, the anti-inflammatory properties of luteolin may prevent cancer.
Stop the Inflammatory Cycle
Figs also contain the flavonoid quercetin. Chronic inflammation can cause your body to produce free radicals, which in turn stimulate the release of inflammatory cells that promote cancer and inhibit healthy cell death. The antioxidant properties of quercetin can stop this cycle of inflammation, which may prevent heart disease, high blood pressure, high cholesterol and cancer. According to the University of Maryland Medical Center, quercetin exhibits an anti-inflammatory effect by halting the release of histamine -- a substance that causes symptoms of an allergic reaction.
Fight Free Radicals
One cup of dried figs contains 9 and 11 percent of the recommended dietary allowance of riboflavin for men and women, respectively. Oxidative stress occurs when your body is producing more free radicals than it can fight off with antioxidants. As an antioxidant, riboflavin is a key component of reactions that fight free radicals and halt inflammation. According to the Linus Pauling Institute, a riboflavin deficiency is associated with increased oxidative stress and inflammation of the tongue and skin. Through its role in decreasing inflammation, riboflavin may help prevent cataracts, heart disease and cancer.
Recommendations and Considerations
Black mission and brown turkey are the most common types of figs. According to a study published in 2006 in the Journal of Agricultural and Food Chemistry, figs with darker skins have higher amounts of anti-inflammatory properties compared to figs with lighter skins. Mission figs hold the highest amount of flavonoids and antioxidants.
Store fresh figs at room temperature and eat them within a couple of days. Pair figs with blue cheese, citrus fruits, garlic and olives, nuts and warm spices, such as cinnamon and nutmeg. Dried figs have a longer shelf life and are easier to find year round. Mix them into salad or oatmeal, or snack on them plain.