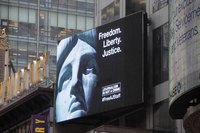 Advertising copywriters deliberately select powerful words to convey their clients' messages, especially in mediums where word economy is important. Advertising also uses persuasive rhetoric much like a politician would during election season. Advertising copy or commercial scripts are often written with a slant, that is, carefully presenting facts and information with the intent of manipulating the audience's views or choices without actually lying. Slant -- often referred to as propaganda -- is technically not false advertising, but many consumer advocate groups encourage people to be aware of this technique.
Card Stacking
Card stacking is perhaps the most recognizable form of slant technique in advertising. Here, advertisers stack the cards in their favor by presenting half-truths or omitting certain facts, resulting in a more favorable impression. An example of this is presenting impressive-sounding statistics without revealing pertinent information, such as the number of people surveyed. An ad may claim, for instance, that 95% of children surveyed preferred a brand of juice without revealing that the other choices were milk and water, or that the survey group consisted only of the advertiser's employees' children.
The Either/Or Fallacy
When comparing two similar items to one another, there could be a more popular choice. If the leading brand is not it, however, this is the "either/or fallacy." In advertising, it is common for a brand to compare itself to another brand. But because they are only presenting two choices, they're not acknowledging middle ground or other choices. The automobile ad that compares its flagship car to only a single competing make and model may look great in that comparison, but it also ignores the numerous other choices a savvy consumer would want to explore.
Focus on the Benefits
In sales letters and television informercials, it is very common to sell the benefits of a product rather than focus on the product itself. This technique will play up how much time a consumer can save, how much easier life would be with this product or another benefit. However, in this slanting technique, mention of the product's quality is usually left out. Focusing on benefits, especially those that seemingly will improve ones lifestyle, can evoke emotion thus creating a need.
The Weasel Claim
Slant techniques often make deliberate use of language to formulate a message. In the weasel claim, a the use of a modifer nearly negates the claim. For example, "This lotion controls aging symptoms with regular use." There is actually no claim here because "controlls" and "aging symptoms" and "regular use" aren't clearly defined, They may be sufficiently persuasive for the person looking for a miracle cream for dark circles under her eyes. If she purchases the lotion because of the inferred claim, the ad is effective. Other weasel words are "helps," "fights" and "like."
Other Slant Techniques
The diversion method takes the focus away from an issue or problem at hand by distracting the audience with a more emotional message. For example, an ad for an oil company after a spill controversy may create an ad to show how its employees help the environment or contribute to charity. Other slant methods are designed to give the audience the impression their status can be raised by buying this car, drinking this wine or shopping at this store.
Slant Legal Considerations
Consumers and competing businesses have access to legal protection from advertisers who lie or use unfair techniques, or who cannot support factual claims they make in their advertising. The Federal Trade Commission sets rules for advertising, but also permits advertisers a gret deal of leeway when it comes to "puffery," or acceptable exaggeration and hyperbole, such as "the world's best coffee." Properly used, slant techniques can comply with the FTC's rules. Businesses should familiarize themselves with these rules, as should consumers.