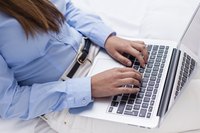 Sitcom writers are screenwriters who specialize in writing half-hour comedy shows for television. Most sitcom writers live in the Los Angeles, California area, where most sitcoms are filmed. Because of the hours that the job requires, and the intense pressure for contemporary humor, sitcom writers tend to be younger writers in their 20s or early 30s. They can easily make over $100,000 a year. Minimum payments for sitcom writers are established in a schedule of acceptable payments published by the Writers Guild of America for use in standard contracts, though writers and their agents can negotiate higher salaries.
Story Minimums
For developing the story that a 30-minute television story will be based upon, the minimum payment is $8,264 as of 2014, according to the WGA agreement with the industry.
Teleplay Minimums
For writing the script that is used for shooting a sitcom, the minimum payment is $17,777.
Story and Teleplay Minimums
If you both come up with the story and write the teleplay for a sitcom, then you will receive more money, but not as much as the minimums for the story by itself and the teleplay by itself added together. The minimum payment is $24,788.
Other Conditions
Upon delivery of the first draft of a teleplay, the writer receives either 90 percent of the minimum payment or 60 percent of the agreed-upon price, whichever is greater. The remainder of the amount owed is due when the final draft is delivered. If you are writing both the story and teleplay, then 30 percent of the agreed-upon compensation is due when the story is delivered. When the first draft of the teleplay is delivered, you are owed either 60 percent of the minimum or 10 percent of the agreed-upon compensation, with the balance due at delivery of the final draft.