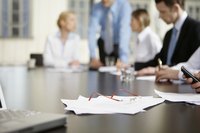 The organizational design and hierarchical structure you choose -- or allow to emerge over time -- affects communications, decision-making and workplace relationships. However, just as there is no single organizational design that works for every business, there is also no single, preferred workplace hierarchy. You do need to understand the potential effects a hierarchy can have so the one you have helps rather than hinders your progress toward meeting long-term goals.
Hierarchical Development
Many new business ventures start with a relatively flat organizational structure and an informal hierarchical design. However, as a business grows, the more structured and hierarchical it generally becomes. For example, decisions become more numerous, complex and often more critical as the business grows. Over time, it becomes neither logical nor possible to solicit opinions or involve low-level employees in business decisions. Establishing a formal hierarchy is often necessary to help a growing business get and stay organized.
Order and Efficiency
According to the University of Kansas "Community Tool Box," well-defined roles and lines of authority clarify who is responsible for what and identify the groups or individuals responsible for business decisions. Clear business rules, greater operational efficiency and better business decisions are common positive effects. For example, a hierarchy assigns lines of authority only to managers with the knowledge and experience to make the operational decisions that allow the business to run efficiently.
Communication Flows
A hierarchy determines how business communications flow. For example, in a strict hierarchy defined by departments or divisions, communications and decisions typically flow in a top-down fashion. The drawback to this is the people at the bottom end up with little or no voice in business matters. While that may be fine with some, it will leave others feeling unimportant and unmotivated. Productivity can suffer if the hierarchy has discouraged those employees from thinking autonomously or making a quick decision.
One Business, Multiple Teams
A hierarchy can create an environment in which departments or divisions function independently instead of as one large team. Autonomous management can positively affect productivity if it encourages teamwork and allows managers to focus on meeting departmental or divisional goals. On the other hand, managers and employees could become territorial about their team, work area or department. That could damage objective problem-solving and intra-department work relationships. In time, that will make it more difficult for a business to achieve overall long-term goals..