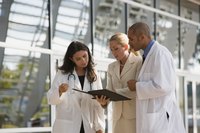 If you are planning to work as a consultant, getting upfront payment is essential. After all, you will need to cover business and living expenses. You will also need to minimize the risk that the client will be slow in paying you or worse, not pay you at all. The exact amount you can require will vary according to the financial stability of the client, your level of expertise and the duration of the consulting assignment.
Payment in Advance
The greater your experience and industry reputation, the more you can require upfront. If the assignment will continue for several months or longer, ask to be paid a month in advance. If you are always a month ahead, you will have money to cover your expenses and will never be at risk of not being paid for work completed should the assignment be canceled. If your consulting is project-based, you can reasonably request 25 to 30 percent upfront. Include this with a payment schedule in a written contract with the client.
Special Considerations
If you do not have a reputation or strong references, the client may balk at prepaying as much as you would like. As an incentive to receive more money upfront, you can offer a discount for early payment. If the client is a large company with established payment policies, you may have to bend your wishes to the client's practice. If you cannot get the payment you request upfront, ask for funds to cover any expenses you may incur in the course of your work. The company may establish an account for you or allow you to use company resources.