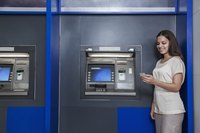 Technically, you can access your money at any time when you deposit it into a bank account. Nevertheless, the entire banking business model is based around your bank using your money to make more money. In fact, your savings may be used to fund your neighbor's home.
Loan Spread
Banks act as intermediaries connecting people who have money with people who need to borrow it. When you deposit money into a savings account, you earn interest as a reward. Your bank then lends that money to a borrower who pays interest in return for borrowing your cash. Banks make money by creating a mark-up, or spread, between the interest paid on deposits and the interest charged on loans. For example, you might earn 1 percent on your savings account while the bank charges 5 percent on mortgage loans. This means the bank makes a 4 percent profit when your money is used to fund loans. Banks also invest deposit money in securities such as stocks and bonds. On both loans and investments banks can lose as well as gain money. This could put your deposits at risk.
Reserve Requirements
Bank branches only keep a small amount of cash onsite. This cash is deemed as sufficient to cover the location's typical needs. Federal regulations require banks to keep a certain amount of cash as reserves in vaults or at the Federal Reserve Bank. As of 2015, a bank with $103.6 million or more in deposits must hold at least 10 percent of its deposited funds in reserve. The reserve limit drops to 3 percent for deposits between $14.5 million and $103.6 million, then falls to 0 percent on amounts below $14.5 million. Banks that write higher risk loans tend to keep higher levels of reserves to mitigate against the greater default risk attached to such loans.
Cash Withdrawals
Just as retailers can run out of inventory on busy days, bank locations can run out of cash. Consequently, bankers often advise customers planning on making large withdrawals to call ahead of time so the branch can order additional cash. Beyond this mild inconvenience, banks could run into much more serious problems if large numbers of customers attempt to withdraw cash at the same time. This occurred during the Great Depression when there was a "run on the banks." Many financial firms went out of business as large numbers of loan defaults left banks short of cash. Nowadays, a bank could in theory have a similar problem since most of the deposit assets are tied up in loans.
FDIC Coverage
The Federal Deposit Insurance Corporation was created in response to the bank failures that occurred during the Great Depression. As the name implies, the FDIC insures bank deposits in the event that a bank becomes insolvent. As of 2015, your deposits are insured up to $250,000 per account holder, per bank. The FDIC won't immediately step in and hand out cash if a bank suddenly runs out of money. The recovery process involves handling claims and the liquidation of the bank's assets. As with any insurance claim, it could take weeks or months for you to get your money back.