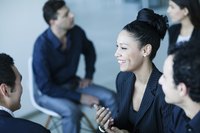 Negotiations are a tricky part of everyday life. Perceptions influence how we assess both the situation in general and the person we are negotiating with in particular. Recognizing how perceptions influence situations can help you negotiate more effectively, whether you are negotiating a curfew, the sale of a house or a pay raise.
Defining the Problem
Successful negotiations require accurate appraisals of the situation. Perceptions can make it difficult to define the problem if people's stated needs are dramatically different from their actual needs. For example, a teenager may strenuously argue that she needs to be allowed to go to a particular party, when what she really wants is to assert her independence. If her parents perceive that she is unreasonably demanding, they will deny her request and therefore further limit her independence. If they perceive the actual issue, then solutions that meet both of their needs can be found.
Focusing on the Facts
Our perceptions influence how we interpret the facts in a situation. This can affect our negotiations by masking solutions. For example, perceptions often cause us to focus on only those facts that support our point of view, causing us to miss important facts that could lead to a solution. Think of a salary negotiation. You feel like you have done great work and deserve a raise. Your boss agrees, but the company is in such financial trouble that she hasn't drawn a salary for the last six months. Because you don't know that the company is in trouble, or the sacrifice your boss is making, your perception of the situation is skewed. Your feelings of merit, and perhaps selfishness on the part of your boss, might prevent you from being able to see the larger picture. Setting aside these feelings and being open to understanding the current plan for the business might result in a favorable outcome for both sides.
Assigning Blame
Our perceptions often cause us to overemphasize our own feelings and needs during a negotiation, especially when we feel threatened. This can cause us to blame the other person for what we perceive as an obstacle to our needs and prevent us from listening to their side. As soon as we perceive the other person as threatening, negotiations become confrontational and much more difficult to resolve.
Finding Solutions
Positive negotiation outcomes require a willingness to participate, find common ground and listen to the other person's perspective. Our perceptions about the other person's willingness to listen to us can make us relax if we perceive them as receptive and defensive if we don't. Similarly, our perspectives shape our understanding of the situation in general, so that if we view our employers as rich and powerful, we will approach a salary negotiation differently than if we perceive them as financially struggling.