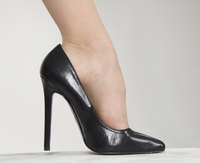 Women entered the corporate world in greater numbers in the 1980s. With their disposable incomes and flare for decadence -- inspired in part by television shows like "Dynasty" and "Dallas" -- working women made '80s fashion a time for flashy clothing and statement-making shoes. Footwear of the time was an eclectic mix of sportswear, designer brands, innovation and trends borrowed from previous generations. From sneakers to high heels, 1980s shoe styles continue to make a notable impression.
Power Dressing With Sneakers
Power dressing for women became a staple of the '80s. With women finding their place in the workforce and holding more white-collar jobs, it was essential to dress the part without abandoning practicality all together. Working women in business suits regularly wore white sneakers -- white-on-white Reebok Freestyles in particular -- as they commuted to work; upon arriving at the office, they changed into a more professional kitten heel or stiletto.
Dr. Martens Make a Comeback
Dr. Martens lace-up boots, created by English entrepreneur Bill Griggs and Munich-based Dr. Maertens, became popularized with working class and punk youth culture of the 1960s and were revitalized in the 1980s. Young women paired the rugged steel-toed boot with an air-cushioned sole with flirty Laura Ashley dresses; others with a punk or heavy-metal esthetic styled them with plaid graphic tees and leather studded belts.
Manolo Blahnik Popularizes High Heels
After two decades of low heels dominating the catwalk, high heels became a symbol of sophistication and yuppie success in the 1980s. When Spanish designer Manolo Blahnik's stilettos began to take over the runway, the sleek, tall shoes became must-haves for power-dressing women climbing the corporate ladder. Simultaneously, aspirational TV shows such as "Dallas" and "Dynasty" showed affluent women wearing high heels with beautiful garments. The look of high heels became synonymous with luxury.
Jellies Make a Splash
Rubber PVC shoes available in a variety of colors, jellies were first introduced to the United States at the 1982 World's Fair in Knoxville. When Preston Haag Sr., a retired banker, traveled to Brazil and saw the country's youth sporting the flashy rubber shoes, he knew they would be a hit back home. Soon after, the Preston Haag family, under the new name Ghrenda Shoes, imported 3 million jellies into the United States, the Caribbean and Canada. Eventually jellies could be found at upscale department stores such as Bloomingdale's, and luxurious versions commissioned by designers Thierry Mugler, Jean-Paul Gaultier, Dorothee Bis and Fiorucci became available.