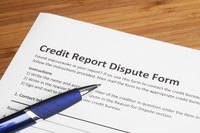 As a rule of thumb, removing a negative item will improve your credit score. However, because scoring methods differ and each bureau can have different information, it's hard to say by how much it will change. Removing a larger negative item generally will have a larger impact on your score. The effect can also depend on your current credit score and the type of negative item you remove.
Understanding Credit Scores
There's no way to say for certain how much removing a negative item will affect your credit score. That's because each credit modeling system weighs information a little differently. The Fair Isaac Corporation, which manages the algorithms that determine credit risk and credit scores, provides some information on how FICO scores are determined. Your payment history and amounts owed tend to be the most important factors, but length of credit history, new credit and the type of credit you use also are considered. Other credit scoring systems -- like the Vantage Score created by TransUnion, Equifax and Experian -- weigh negative information slightly differently. In fact, if your lender doesn't report to every credit bureau, a credit bureau may not even have a record of the negative item in the first place.
Your Original Credit Score
The effect of removing a negative item will vary depending on your original credit score. Individuals with higher credit scores are more sensitive to negative items. When you have a higher credit score, you have more points to lose from a negative item. When that negative item is removed, your score increases by the same amount of points it was decreased. That means that if you have a higher credit score, you're more likely to see a big increase when you remove a negative item. For example, removing a negative item will have more of a positive effect if your credit score is 650 compared to if your credit score is 550.
The Type of Item
The nature of the negative item also determines how large of an effect it has on your credit score. Again, credit bureaus aren't specific about which items they consider to be more important than others. However, the bureaus may weigh medical debt differently than non-medical debt or consider at what stage of collection the debt is in. In contrast to FICO, the Vantage Score don't consider collections on accounts that have already been paid. Oftentimes consumers pay the balance of an account in collections but the negative item remains on the credit report. When that item is finally removed, your score may change under FICO but not under the Vantage Score.
The Size of the Negative Item
Not surprisingly, most credit scoring models weigh large debts more than small ones. In most situations, paying down a $1,000 tax lien will bump up your score more than paying off a $50 medical bill. In fact, paying down a small debt and removing the negative item may not change your score at all. That's because some credit bureaus don't even consider debts below a certain threshold.