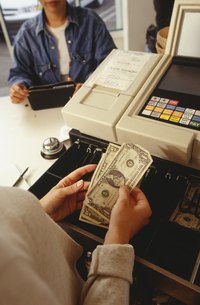 Self-employment offers plenty of perks. You don't have to salute your boss, for example, because you are the boss. Being the boss also means that no one can garnish your wages. Only employee wages can be garnished. This doesn't mean that a creditor who holds a judgment against you can't use other options to collect a debt you owe, however.
Wages vs. Self-Employment Income
Wages are paid from an employer to an employee under circumstances where the employer controls when the employee works and what he does while he's on the clock. When you're an employee, someone else writes you a paycheck after deducting taxes on your behalf and sending those taxes to the Internal Revenue Service. If you're paying your own estimated taxes each quarter, you're not an employee and your income can't be garnished.
There are gray areas, however. If you own a company or corporation and you draw a paycheck from the business, being self-employed won't protect your income. In a legal sense, that makes you an employee of the company as well as the owner. If you're an independent contractor who does a lot of work for one particular client -- maybe you're a freelancer or offer consulting services -- the question of whether this particular portion of your income can be garnished can depend on state law. Your earnings are not technically wages and wouldn't be covered by wage garnishment laws, but this might mean that a creditor can take more from you than the percentage it would have been limited to if it could have garnished your wages. If you're concerned, check with legal aid or an attorney in your area.
Bank Accounts
Even if your self-employment income can't be garnished, creditors still may be able to get to your money after successfully suing you in court and winning a judgment against you. This allows the creditor to garnish your bank accounts instead. It need only ask the court for a levy order and present the order to the bank. The bank then is obligated to turn over the amount of your debt from the funds in your account. If the balance in your account isn't sufficient to cover all you owe, the creditor may be able to levy all the money, depending on state law.
Business Equipment
If you own a business establishment, such as a store, gas station or salon, a creditor can ask the sheriff to pay a visit to your place of business. A sheriff's officer can show up at any time -- he doesn't have to make an appointment or give you any warning. He can order you to open your cash register and hand over however much money it contains at the time, up to the amount of your debt. In some states, the sheriff's officer can remain at your store, station or salon all day, taking the money each time someone pays you until your debt is satisfied. He can assess what equipment and merchandise you have on hand and seize it for sale, usually at auction. All these methods are forms of non-earnings garnishment.
Your Spouse's Earnings
Depending on where you live, a creditor might be able to garnish your spouse's wages if she works for an employer but you don't. This is the case in the nine community property states:
• Arizona • California • Idaho • Louisiana • Nevada • New Mexico • Texas • Washington • Wisconsin
Community property states treat all debts incurred during a marriage as being the liability of both spouses. It doesn't matter whose name is on the loan or account. In most cases, however, the creditor would first have to name your spouse as a co-defendant in the lawsuit so the resulting judgment is against both of you in order to collect from her.