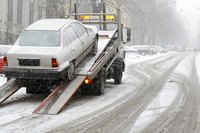 Keeping up with your car's yearly registration is a crucial part of keeping it in compliance with the law. Unfortunately, expired tags could cost you more than just a ticket. If your car breaks down on the side of the road or you live in an apartment complex that allows the city to impound cars with expired tags, you could find yourself facing impound fees and potential credit damage.
Vehicle Impound Fees
Vehicles towed by the city go directly to the impound lot. It can cost hundreds of dollars to bail your car out of impound – much more than the cost of updating your registration. If you don't pay the impound fees and reclaim the vehicle, the towing company may sell your debt to a collection agency. Collection accounts can cause significant damage to your credit scores.
Repossession
If you haven't paid off your car, you must continue making payments while the vehicle is impounded or your lender can repossess the car directly from the impound lot. The missed loan payments and repossession will appear on your credit reports and your credit scores will suffer. If the lender cannot recover your auto loan balance by selling the vehicle, it can sue you for the difference.
Registration Renewal Process
Modern registration renewal methods, such as the online renewal option offered in many states, speed up the renewal process and make it much more convenient than having to visit a local DMV office in person. If you still let your registration lapse, your DMV may issue you a temporary permit if certain conditions are met. For example, if you need an emissions test to complete the registration process, a movement permit allows you to temporarily drive the vehicle without proper registration.