Science has divided the human abdominopelvic region into four quadrants to enable clinicians to more easily and accurately examine this area. One horizontal line and one vertical line is passed through the umbilicus, or belly button, which divides the area into upper and lower and left and right, resulting in four quadrants. The Right Upper Quadrant, Left Upper Quadrant, Right Lower Quadrant and Left Lower Quadrant, each of which houses specific organs. Examination of the area is a critical part of any medical examination, which is done through external inspection, palpation, percussion and auscultation -- listening with a stethoscope.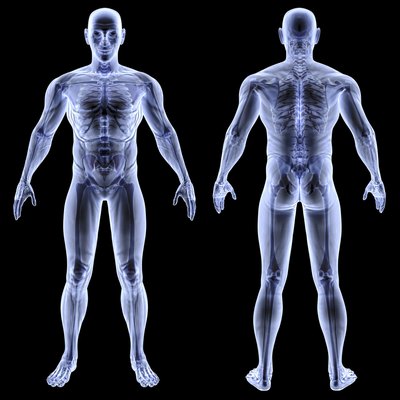 Right Upper Quadrant
The right upper quadrant contains the liver (much of it is underneath the ribcage), gallbladder, tail of the pancreas and the right kidney and its adrenal gland. Any excess fluid could be an indication of a pancreatic cyst or tumor, liver enlargement could signal hepatitis, while tenderness during palpation may reveal kidney disease.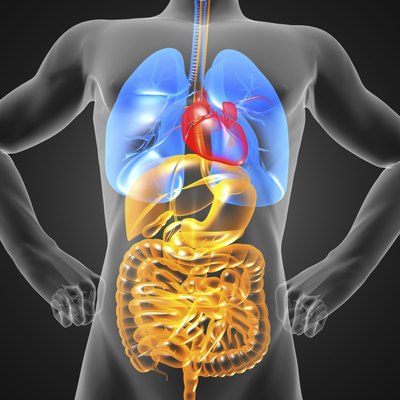 Left Upper Quadrant
The left upper quadrant contains the stomach, spleen, head of the pancreas and the left kidney with adrenal gland. When palpating the left upper quadrant, a physician will most likely be attempting to feel any indication of the spleen, a part of the immune system that produces white blood cells, which clean up bacteria and foreign matter. Because it is protected by the ribcage, the spleen can only be felt if it is enlarged, which occurs in cases of mononucleosis or leukemia when the spleen is working overtime to fight infection or disease.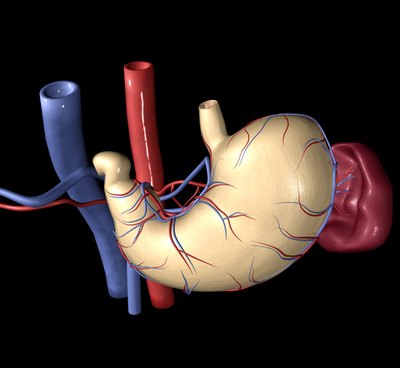 Right Lower Quadrant
The right lower quadrant contains the large and small intestines, the appendix and in female patients, the ovaries. Physicians listen for the normal sounds of the bowel; any increased or decreased sounds may indicate bowel abnormalities including infection or obstruction. Palpation that produces pain may signal appendicitis.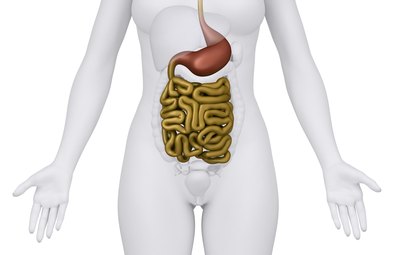 Left Lower Quadrant
The left lower quadrant contains the left ovary and the uterus in female patients. Physicians palpate the area to feel for any masses, which can be a sign of uterine fibroids or ovarian tumors.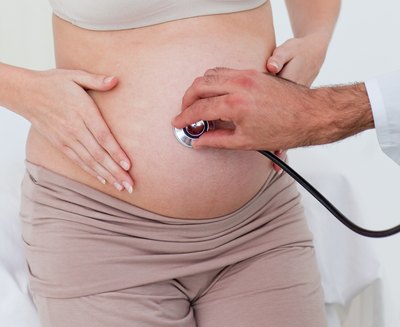 The Umbilicus
The umbilicus, or the navel, is not in any specific quadrant but directly in the center of the abdomen. During a physical, a doctor will inspect the area for an umbilical hernia, a protrusion of the intestines through the abdominal muscles and look for any discoloration of the area, which can result from internal bleeding caused by severe pancreatitis. The physician will also palpate and ausculate the area in an attempt to assess the abdominal aorta, which supplies blood to the lower pelvis, abdomen and lower extremities and is the largest artery in the body. Any abnormal arterial sounds, or enlarged areas could indicate an aortic aneurysm, a bulge in the arterial wall. Ruptured aortic aneurysms quickly lead to death and typically present no symptoms so it is crucial that physicians be able to assess the area.