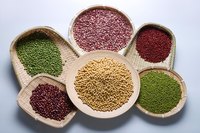 Some of the best sources of iron are animal-based foods, including many shellfish, liver, beef and lamb. However, you can meet your iron needs from plant-based sources if you know which foods to choose.
Beans and Vegetables Highest in Iron
Dried beans typically provide at least 10 percent of the daily value for iron in each 1/2-cup serving. Soybeans have about 25 percent of the DV and lentils have about 14 percent of the DV per serving, making them among the better plant-based iron sources. Add more iron to your diet by including cooked dark leafy greens. Each cup of cooked spinach has 36 percent of the DV for iron, and the same amount of cooked Swiss chard provides 22 percent. Cooked turnip greens have 16 percent of the DV per cup. Raw greens aren't as high in iron per cup. For example, a cup of arugula has less than 2 percent of the DV.
Grains, Nuts and Seeds
An ounce -- 142 seeds -- of sesame or pumpkin seeds each has more than 20 percent of the DV of iron per ounce, and sunflower seeds provide more than 10 percent of iron per ounce. Nuts aren't quite as high in iron, but an ounce of either cashews or pine nuts will give you 9 percent of the DV per ounce. Grains are another source of plant-based iron, with each cup of quinoa, barley, rice, oatmeal or bulgur providing at least 10 percent of the DV.
Herbs Highest in Iron
Although herbs can be high in iron, you usually eat such small amounts of them that they don't provide much iron in the typical diet. Eating a tablespoon of dried herbs, including parsley, thyme, marjoram or spearmint, would give you 21 percent of the DV for iron. This is more of these spices than typically found in an entire recipe. As with raw greens, raw herbs aren't particularly good sources of iron. For example, 1/4 cup of fresh basil has just 1 percent of the DV for iron.
Increasing Absorption
The iron from plant products is called nonheme iron, and it isn't as well absorbed as the heme iron from animal products. If you rely solely on plant-based iron sources, the recommended intake is almost twice as high as for people who eat at least some meat. Only 5 to 12 percent of iron in vegetarian diets is absorbed, compared to 14 to 18 percent of iron in mixed diets, according to the Office of Dietary Supplements.
You can increase the absorption of nonheme iron by consuming it along with foods containing vitamin C or a source of heme iron, such as meat or seafood. On the other hand, calcium and some substances found in grains and beans can reduce iron absorption. Don't drink coffee, tea or cola with your iron-rich foods, as these can decrease iron absorption. This is mainly important for people who don't get enough iron in their diet.