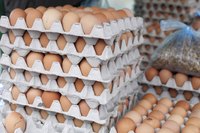 Eggs -- any kind of eggs -- are a nutritious source of protein that are also low in calories. Though plain eggs are a healthy food choice on their own, fortified eggs can be even more nutrient-dense. The jury's still out on whether fortified eggs are actually significantly healthier than any other kind of egg, but they certainly aren't worse for your health.
Facts About Fortified Eggs
Fortified eggs aren't injected with nutrients -- the chickens that lay the eggs are fed a fortified diet. For example, farmers might feed their chickens flaxseed or chia seeds to boost the nutrient value of the eggs they lay, according to the "Las Vegas Review Journal." Other farmers might add rice bran, sea kelp and alfalfa to their chicken feed. These specialized diets increase hens' intake of essential nutrients, which are then transferred to the eggs they lay and are sold commercially as fortified eggs.
Eggs Fortified With Omega-3s
One of the primary nutrients eggs are fortified with are omega-3 fatty acids. Hens are fed flaxseed, chia seeds or linseed, which are healthy sources of omega-3s, and that results in eggs higher in omega-3s than eggs laid from hens fed a conventional diet. Omega-3 fatty acids can help reduce the risk of heart disease. Because the Western diet is so high in processed foods, many people don't get enough omega-3s, and eating fortified eggs is one way to boost consumption. In fact, fortified eggs contain as much as 3.8 times more omega-3s than eggs from hens fed a conventional diet, according to a 2008 article published in the "Israel Medical Association Journal."
Eggs Fortified With Vitamins and Minerals
Some farmers feed their hens a diet with added iron, and that iron transfers to the eggs. For people with iron deficiency or anemia, iron-fortified eggs are one way to boost intake of this key mineral. Some eggs are fortified with vitamins such as vitamins A, D and E, and this is done by feeding hens foods high in these nutrients, such as sea kelp and alfalfa. Eggs might also be fortified with B vitamins, the "Times-Picayune" notes.
Fortified Eggs in Your Diet
If you're interested in adding fortified eggs to your diet, examine the labels on egg cartons carefully. The labels on fortified eggs clearly state that they've been fortified. The nutrition label can provide additional clues about the nutrient content of fortified eggs. Eat the yolks of your fortified eggs because much of the extra nutrients, such as iron and beta carotene, are located there, according to the "Cooking Light" website. Even though fortified eggs are more nutrient-dense, you might not get much benefit unless you eat a lot of eggs. Often, the amount of nutrient boost you get isn't hugely significant, so they might not be worth the extra money. Fortified eggs also still contain cholesterol, so you'll need to watch your cholesterol intake when adding them to your diet.