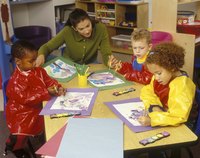 Day care centers have to provide an environment rich with toys, age-appropriate books and other equipment to ensure a certain quality of care for the children. You may have to conduct fundraisers to pay for large purchases, such as playground equipment, and also smaller items, such as art supplies. By involving staff, parents and children in your fundraising efforts, you can rally team spirit and have fun.
Sell Products or Services
Common funding vehicles for day care centers are thrift shops or consignment sales in which parents donate items -- cribs, toys, clothing or books -- that younger families can buy. Another vehicle is class pictures in which you have a professional photographer take pictures of your children and then sell these pictures to the children's family members. New York-based Rainbow Chimes collected half of the profits, or $4,000, by selling children's photos to parents and relatives, according to the Child Care Information Exchange. Other items that you can sell include plants, coffee, art donated by local artists, and candy and other food.
Conduct Games of Chance
If your day care is organized as an official charity or under the umbrella or one, you can use bingo, lotteries and other games of chance to raise funds. Games of chance are legal only for nonprofit organizations and must adhere to your state's regulations. In addition, they should be held only one or two times annually. If you conduct games of chance frequently, the activity becomes a form of gambling and can threaten your nonprofit status, according to "Fundraising Fundamentals: A Guide to Annual Giving for Professionals and Volunteers" by James Greenfield. However, you can conduct an Easter egg hunt or Chinese auction. For example, the New Jersey-based Children's Space conducted a Chinese auction in which they exhibited donated items on tables. A bowl is placed beside each item. Ticket-buyers place a ticket in the bowl of the item they want to win. At the end of the auction, a ticket is drawn from each bowl to determine the winner.
Launch an Event
While event planning can be time-consuming and costly, a day care center can conduct events that require less effort and can raise significant funds. While you could pay money to book an artist to put on a concert, you may get more mileage by involving your staff in a marathon dance event. The Great Beginnings Christian School in California conducts an annual RockerThon in which employees solicit pledges and then try to dance for up to 24 hours. The RockerThon has reaped $1,000 to $4,000, according to the Child Care Information Exchange.
Involve the Children
You can involve the children in fundraising events in various ways. Instead of having your staff rock through the night, a hop-a-thon or read-a-thon can be exciting for the children and, at the same time, raise extra funds, according to Child Care Lounge. Have the children and their families secure pledges for a fun, if not challenging, task that the children have to complete. You can also turn children's artwork into finished products, such as calendars and cards, and sell or conduct an auction for these products.