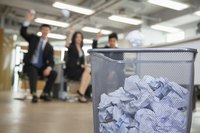 Insubordination at work can take many forms, whether it's making threats, using abusive language or interfering with management. What all these have in common is the refusal of an employee to do to what a supervisor asks. While it's easy to demonize workers who are refractory or defiant, a supervisor who understands their thoughts, feelings, mind-sets and problems can often resolve workplace flare-ups.
Anger and Frustration
According to University of Pennsylvania Behavioral Health Corporate Services, insubordination is a widespread problem in the workplace that can lead to workflow erraticism and affect the bottom line. Given the implications of a disaffected workforce, companies should take steps to reduce the conflict that leads to insubordination. Building trust and consensus in work values, as well as a sense of collegiality, can give anger and frustration no place to grow.
Handling Insubordination
Dealing with insubordination in a work environment requires a proactive stance from managers and employees. Managers need to understand common causes of conflict, as well as types of conflict, so they can address arising problems in a positive way. For example, notes Penn Behavioral Health, managers should understand the mind-set of those who rebel -- say, when an employee perceives she is not valued in the company. And insubordinate workers should engage in self-reflection, asking questions such as: "Why do I feel I have to prove that I am right?"
Employee Counseling
While it's not exactly therapy, counseling sessions between a supervisor and an insubordinate employee can be useful in improving job satisfaction and boosting morale, notes educational publisher McGraw Hill. Counseling should be used judiciously and only when an employee needs help in resolving a problem that directly affects her work. The supervisor can take either a directive or nondirective approach; in the former, he takes an active role in advising solutions, and in the latter role he's primarily listening.
Impact on Workplace
As career website Future of Working illustrates, the insubordinate employee isn't just the manager's problem. The disengaged or disaffected worker also affects the rest of the company and becomes a drag on the morale of his team. While insubordination is a serious matter, with potential financial and legal repercussions, managers also don't want to go to the other extreme and fire someone because he simply had an off day. An unnecessarily severe punishment can backfire and make the employee's attitude even worse.