In addition to the meaning of a particular tattoo, its placement on your body is equally important, male or female. However, there are some places that lend themselves well to the female form. Always take time to consider every detail of a tattoo's significance and placement before having it applied, and check an artist's portfolio before employing him. Traditional tattoos are done in black and gray shades, but you can choose to incorporate colors if you wish.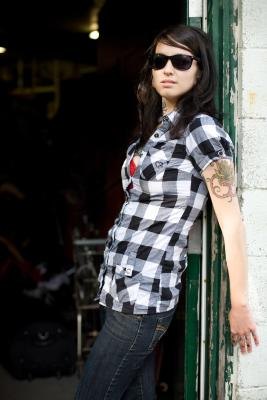 (Jupiterimages/Photos.com/Getty Images)
The back of woman's neck can be an ideal spot for a small tattoo (no bigger than a credit card) of either artwork or a single word script. Women with long hair can easily cover the tattoo with it for professional or other purposes, and women with shorter hair can cover it with a turtleneck shirt or scarf, weather permitting. It is not an advisable spot for a woman's first tattoo, but it is considered an effeminate place, as most men choose to get either the left or right side of their neck tattooed.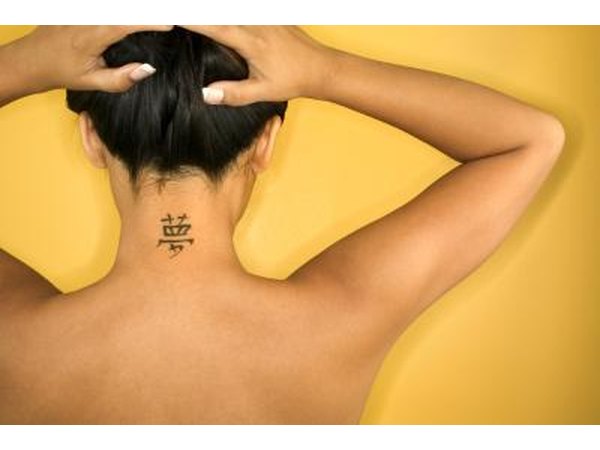 Thinkstock/Comstock/Getty Images
A good spot for a woman's first tattoo can be over either shoulder blade or on the center base of your back. Many may think the lower back is a cliche spot for a woman, while, in fact, it is merely the tattoos women tend to place at their lower backs that are cliche. In truth, it can be a very sultry and beautiful spot, given the proper tattoo. Tattoos on your shoulder blades or lower back are easily covered, but you can choose to easily display them as well, depending on the situation.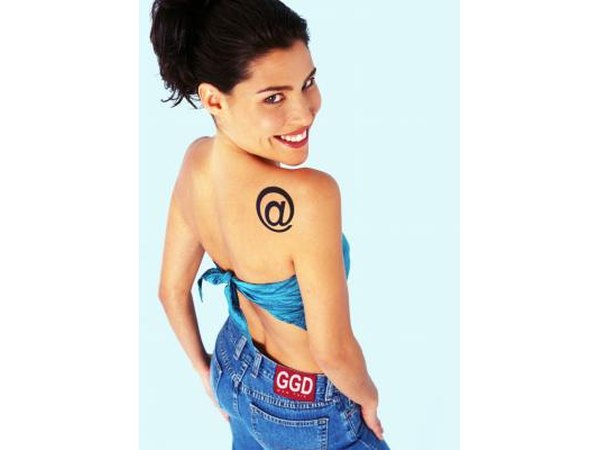 Stockbyte/Stockbyte/Getty Images
The outer thigh or calf is a large enough spot to display a highly detailed tattoo, such as a lifelike portrait of a loved one or a list of musical notes set to your favorite song, if you happen to be a lover of music. You can easily display a tattoo on your outer thigh or calf in either a bathing suit, shorts or skirt, but also cover it with a longer skirt, dress or pants. For this reason it is another ideal spot for a first tattoo.
Ryan McVay/Valueline/Getty Images
A tattoo on the top of a woman's foot, at her ankle or spanning from the top of her foot onto the base of her shin can be small and discrete or larger and extravagant. You can tattoo rosary beads around your ankle and allow the form to flow down onto the top of your foot to display a crucifix or a multitude of religious icons, like a charm bracelet, if you find a level of harmony in all religions. It is an easy spot to cover, but also one you can easily display.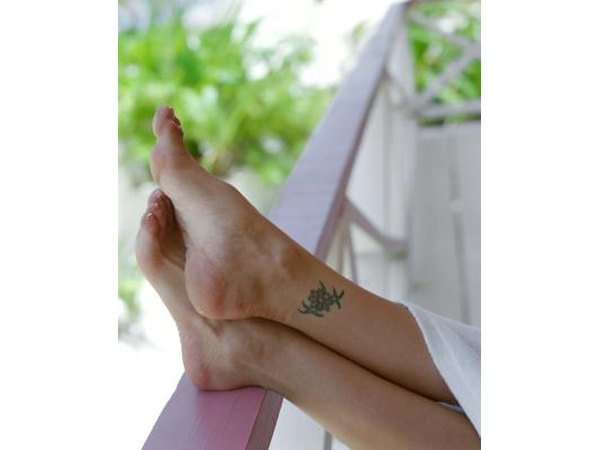 Creatas Images/Creatas/Getty Images
Promoted By Zergnet