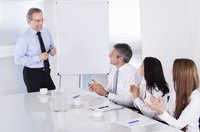 Executives and managers typically address subordinates during new employee orientation, annual events, performance reviews and process improvement initiatives, and effective leaders often include inspirational quotes in presentations, email messages and other communication to motivate employees. Using quotes from historical figures that reflect a current challenge prompts people to act. Organizations that empower their employees to take on new challenges tend to have higher employee satisfaction rates, less attrition and lower absenteeism.
New Employee Orientation
Inspirational leadership messages delivered during new employee orientation programs tend to focus on opportunities provided by the company for employees to develop their careers. Messages should center on working hard to achieve success, as well as emphasizing the value the new employee brings to the company with his enthusiasm, expertise and skill. Leaders who express appreciation for the work done by employees tend to develop loyal followers.
Annual Events
Company meetings, such as a monthly or quarterly business reviews, tend to focus on daily operations and improving profitability. Annual events typically provide an opportunity for leaders to reward and recognize employees for their performances, as well as motivate subordinates to work even harder. By quoting proverbs or philosophers, leaders use inspirational messages to encourage teamwork, perseverance and victory. Quoting popular playwrights and authors allows leaders to add humor, conventional context and uniting elements to otherwise dry business content.
Performance Reviews
During the performance review process, managers have the opportunity to meet with subordinates and provide them with feedback on their work. By coaching and guiding employees using inspirational messages, managers provide subordinates with the visionary leadership necessary to make changes a reality. Leaders explain the strategic direction, help employees set development goals and encourage commitment, passion and dedication by setting a good example in words and actions.
Process Improvement Initiatives
Inspirational leadership messages typically express the values of the company. If strategic goals reflect a need to modify processes to reduce defects or eliminate waste, leaders need to stress the importance of continuous improvement. By embodying a sense of personal integrity, energy and vitality, leaders inspire employees to make necessary changes to improve company operations. By quoting military leaders who took risks or politicians who successfully persuaded constituents to adopt new beliefs, leaders use proven strategies to motivate and guide subordinates.