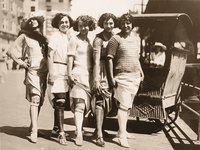 The 1920s and 1930s brought about new developments in casual wear and formal wear for both men and women -- from flapper dress styles to the first leather jackets. These pre-war decades led to shorter hemlines for women, new fabrics, and new suit cuts for men. Fashion changed, as did the American experience during these years.
Ready to Wear in the 1920s
In the 1920s, for the first time, many people bought their clothing in department stores or from catalogs, such as the Sears Roebuck catalog, rather than making garments at home or purchasing them from a dressmaker or tailor. For women, the silhouette was typically straight, with a dropped waist and slim skirt. Hemlines were shorter than before, from the knee to mid-calf for much of the decade. Men wore classic suits at the office, but had more options for sportswear, including striped jackets and colorful sweaters. Leather jackets and newsboy caps became popular for men.
Flapper Fashion of the Roaring '20s
The 1920s are known for flappers and speakeasies -- the underground bars of the Prohibition era. The flappers and their dates were young, stylish and daring. Men wore pants and jackets that were baggier than ever before, but still fit the basic requirements of a suit. For the flappers, dresses, like their hair, became shorter than ever. The flapper dress was often elaborately beaded or embellished, cut to move as its wearer danced the night away.
Make Do and Mend in the 1930s
In 1929, the U.S. Stock Market crashed, leading to a global depression. One effect of Great Depression was less money for clothing. Dresses in this period became longer and took on a more feminine silhouette, fitting closer to the body. They were commonly made of inexpensive fabrics, such as the newly discovered rayon. Later in the decade, rationing slimmed and simplified the silhouette. Sportswear became more common for both men and women, but men still wore traditional suits for most activities, but with a wider shoulder and crisply pleated and cuffed pants.
Some Glamor in the '30s
Formal wear in the '30s was simpler than the flapper attire of the '20s. Heavily embellished short dresses were replaced by long and elegant bias-cut gowns that clung to the body. Those who could afford it chose lame and sequins, as well as shimmering silks and velvets for evening wear. For men, evening suits created a broad-shouldered and slim-hipped silhouette, typically with a double-breasted jacket. Trousers were worn high on the waist -- several inches above the navel, but were fitted, rather than baggy or loose.