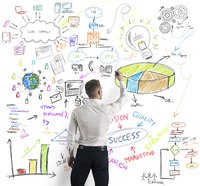 When your business reviews pricing choices, it is essential to realize that many customers will pay more rather than less for some attributes -- exclusivity is often listed as an example. As observed by sales expert Tom Searcy in March 2012 on the Inc. website, "We all have things for which we will pay a premium and others for which we seek the lowest price."
Desire for Unique Experiences
For some retailers that charge premium prices for their brands, luxury alone is often not enough to get customers to make a purchase. Several luxury brands have added "exclusive events" to their marketing strategy. This approach includes "by invitation only" and early exclusive access for preferred customers. When asked about offering exclusive experiences to build brand loyalty, Dante D'Angelo, consumer development manager for an Italian maker of popular luxury brands, was quoted on the Business Week website in January 2013, "It's a new way of providing exclusivity, making customers feel important, unique."
Personalization and Quality
Some goods and services will be more highly valued by customers if they are receiving a personalized product; the more anything can be customized or individualized, the more exclusive it will be. The concept of exclusivity can be exemplified by a service or product that is created expressly for one individual or business. For example, with Internet publishing services, software is often used to evaluate how original business writing is. More originality can translate to a higher price for customers buying specialized products such as white papers.
First-Class Mentality
"Going first class" is a metaphor for buying a service or product that has a limited supply and costs more. A customer's ego is frequently impacted by buying choices that involve various elements of exclusivity -- one-of-a-kind and rare goods can serve as conversation pieces as well as status symbols. When a potential customer wants to go "first class," your business marketing strategy will be more likely to succeed if your message emphasizes exclusivity rather than saving money. This can result in a surprising realization about your prices for a service or product -- charging more rather than less can be a winning strategy.
Exclusivity Is Not Always Enough
The marketing potential for exclusivity will not work in all buying situations. Your customers are likely to also make buying decisions based on other key parameters such as convenience, speed and service. The quality of customer service is frequently cited as an important factor in creating a positive consumer experience. For example, a 2010 study conducted by Harris Interactive reported that 85 percent of customers would pay more than the "regular price" if they could be assured that the purchase included "great customer service." If your company wants to pursue a premium pricing strategy, find a way to combine exclusivity with great customer service.