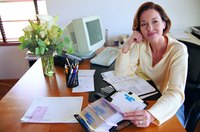 If you have two home businesses, the IRS allows you to claim both of them on your taxes. Treat each business separately, keeping individual records for each. If one business makes a profit and the other business realizes a loss, the loss will help offset the profit and will lower your adjusted gross income. You may use certain business equipment and supplies for both businesses and allocate the expense between the two.
Separate Reporting
Complete a separate Schedule C for each business you operate. Keep accounts of the income and expenses for each business and report these amounts on your tax returns. If you use a resource in both businesses, such as a computer or a phone line, assign a percentage use to each and deduct the expense accordingly. If you have a single business phone that you use for both a party planning business and a pet sitting business, and you spend 60 percent of your time on party planning and 40 percent of your time on pet sitting, deduct 60 percent of the cost of the business line on the Schedule C for the party planning and 40 percent on the Schedule C for the pet sitting business. Keep accurate records to justify your use of these percentages.
Home Office Deduction
You may deduct expenses for a home office if the office is a separate space used solely for your business. If you use the office for more than one business, both businesses must meet the home office deduction requirements in order for it to qualify. For example, if you are a real estate agent and you work primarily in a separate location but have an office in your home for your convenience, this doesn't meet the qualification to take a home office deduction. If you also run a pet sitting business out of this home office, you still can't deduct the home office because you don't use it exclusively for a qualifying business.