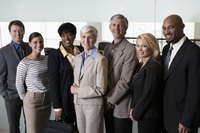 Used frequently in the context of human resources management, high turnover means that a significantly high number of employees is leaving the company and being replaced. Recruiting, hiring and training replacements is a costly undertaking for any employer. A high turnover rate has an overall negative impact on both the company and its remaining employees.
Cost
The cost of high employee turnover varies, depending on the salary and job duties that must be replaced. For example, in a restaurant, it costs less to replace a dishwasher than a chef. A general rule of thumb is it takes 100 to 150 percent of a worker's annual salary to replace him or her, and more highly-compensated employees can cost even more to replace. In addition, employers' federal unemployment taxes are based on their turnover rates: the higher the turnover rate, the higher the unemployment tax rate.
Causes
Higher pay and more stable employment are very common reasons for voluntarily quitting a job. In addition, high turnover characterizes many low-skilled jobs, as well as industries with a predominance of such jobs. Many people work in such jobs to pay bills while they enhance their education or skills, and move on afterwards. Job-hopping employees - those who remain in a job for only a few months before moving on - can also contribute to high turnover rates. Some employees, on the other hand, leave for more challenging positions once they feel they've learned as much as they can from their current job.
Reducing High Turnover
Businesses can take steps to control turnover, such as paying wages that are competitive with those paid for the same or similar jobs in your area. Incentive programs and bonuses for additional efforts can also keep workers' morale stable. Communication with workers is another key to maintaining your workforce. If they feel they are part of the team and considered in the decision making process whenever possible, they will develop company loyalty. Make sure there is room for advancement from within the company. Workers who feel they will never move up, typically search for ways to move out.
Screen Applicants
Checking applicants' job histories should also help reduce your turnover rates, especially if you have a history of hiring job hoppers. There's a good chance that employees who frequently change jobs will likely move on from your company as well in just a few months. When checking references, ask former employers about applicants' length of employment with them rather than rely on resume claims. Ask interview questions designed to identify job hoppers.