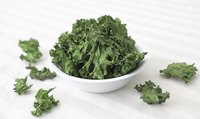 When you eat fruits and vegetables, you eat different parts of plants. Roots, stems, leaves, flowers, fruits and seeds are some of the parts your produce could be. The "leaves" category contains a lot of foods that can add a bounty of nutrition to your diet.
Kale, Brussels Sprouts and Collard Greens
Collard greens, brussels sprouts and kale all belong to the Brassica Oleracea family, which includes broccoli and cauliflower. These three varieties all offer high amounts of vitamin C, vitamin K and beta-carotene, the plant form of vitamin A. Vitamin K helps to support bone health, and vitamin C is an important antioxidant in your body. These leafy greens also contain a phytonutrient (a beneficial plant compound) called sulforaphane, which has anti-cancer properties.
Salad Greens
When you make a salad, you probably use leafy greens like romaine lettuce or arugula. Unlike romaine lettuce, arugula will have a bitter and spicy flavor. These leaves provide high amounts of beta-carotene, an orange-pigment antioxidant -- also found in sweet potatoes and carrots -- that's converted into vitamin A by the body. Just 2 cups of romaine lettuce will provide you with 45 to 58 percent of the recommended daily amount of vitamin A for adults.

Spinach and Swiss Chard
The leafy greens of spinach and Swiss chard belong to the Amaranthaceae family. You can use spinach and Swiss chard in omelets, salads or by themselves sauteed with spices. Both of these plants have high amounts of the phytonutrient lutein. An article in "Experimental Eye Research" demonstrated that lutein may help reduce overall risk for age-related macular degeneration.

Nutritious Herbs
An essential for any recipe is the inclusion of herbs, which can also be leaves. Cilantro, parsley, basil, oregano, thyme, bay leaves and sage are all leaves. Although herbs are used in smaller quantities, they can still provide small amounts of vitamins, minerals and antioxidants.