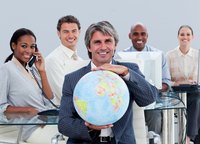 Economic growth within a specific country or region depends on actions of people, individually and collectively, in government and enterprise. People act based upon their ideas and beliefs about work, wealth, receptivity to new ideas, autonomy and spending. Many of these ideas derive from the social and cultural traditions of the region.
Education
A strong education system, especially one in which every child is required to attend school, is a key to economic growth. The strength of a school system depends on cultural and social factors, such as level of teacher salaries and the willingness to commit public monies toward building new schools or renovating old ones. Therefore, cultures in which teachers are undervalued will present a barrier to economic growth. Education, in general, leads to greater literacy, improves cognitive thinking.and increases the number of people with skills necessary to produce goods in an industrial society. Education also instills in the population an understanding of economic concepts. Finally, education increases the capacity of a society to accumulate and spread knowledge.
Occupational Norms
Cultural and social norms also influence the majors undertaken in colleges and, therefore, the occupations chosen. For example, societies that foster growth in engineering and technical occupations grow faster. The skills and occupations required to move economic development forward will change over time, and societies that fail to change their expectations and policies will thwart their development.
Religion
Religion often helps shape our beliefs and practices regarding work, spending, saving and risk-taking. Researchers have linked religion with a high gross domestic product because it increases trust and lowers corruption. In some cultures, merchants use religious backgrounds to determine reliability for purposes of trading together. Religious beliefs that promote frugality may be at odds with economic growth, which is based upon consumption. Religious beliefs that promote conservatism may inhibit creativity and entrepreneurship.
Gender Parity
Since human talent is a key to a country's productivity, economic growth increases whenever barriers that limit women's full participation in the workforce can be eliminated. These barriers might include lack of childcare, lack of equal employment opportunities and limited educational opportunities. When women have the opportunity for profitable work, their children may be better fed and have access to better health care, thus increasing their ability to contribute to a developing economy as they get older.
Individualism and Autonomy
Economic development thrives in a culture that supports the belief that an individual, through hard work, can improve his circumstances and that working toward such improvement is a moral action to take. Likewise, an ethic of persistent hard work helps move a nation's economy forward. A culture that allows for autonomy rather than conformity fosters growth as well.