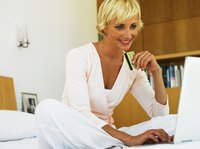 Credit card companies do allow consumers to settle their debt for less than the full amount they owe, but settlement is neither easy nor painless. When you seek a settlement, you're asking your credit card company to forgive part of your debt -- to let you walk away without paying money that you promised to repay. That will carry consequences, and those consequences can be severe.
How Settlement Works
In the language of credit cards, "settlement" refers to an agreement in which your card issuer lets you pay a portion of your debt and forgives the rest. For example, you might owe $20,000 on a card account, and you simply can't afford to pay it. Rather than have you default on the debt -- in which case the company will get none of the money it's owed -- your card issuer might let you negotiate the debt down to an amount you can manage. It might cut the debt to, say, $12,000 and let you repay it over time. Pay the reduced amount as agreed, and your card issuer will consider your account paid off. This makes it different from a "charge off" or a "write off," in which the card issuer declares your account a loss but still has the right to collect on your debt.
Credit Score Will Suffer
If you settle credit card debt, be prepared for your credit score to drop. Credit card companies typically won't even consider settlement unless an account is well past due and it looks like they won't get paid at all. Those missed payments will appear on your credit report and hurt your score. After you settle, the card account will appear on your credit report as "settled for less than full balance." This will further damage your score. Finally, debt settlement can remain on your credit report for seven years, so the effect can follow you for a long time.
Tax Consequences
Debt settlement also has tax consequences. The credit card company originally loaned you money -- in the previous example, $20,000. You spent that money, and now you're going to pay back less than you borrowed -- $12,000 in the example. In other words, you received $8,000 that you won't pay back. Money you don't pay back is considered income, so you will have to pay taxes on the forgiven debt.
Beware of Predators
Many companies promise to help you settle your credit card debt. As Steve Bucci of Bankrate notes, these are the companies behind ads that promise to tell you "secrets banks don't want you to know" or that misleadingly say you have a "right" to settle your debt for pennies on the dollar. These companies charge large fees -- money you could use to pay down your debt. According to the Federal Trade Commission, the "debt relief" industry is plagued by scammers who take your money and tell you they're using it to pay down your debts when they're actually pocketing it. Before working with any debt settlement company, check with your state attorney general's office and your local Better Business Bureau for complaints. Avoid companies that charge fees before settling your debts, that guarantee they can make your debt simply "go away," that advise you to lie to your creditors or avoid communicating with them or that say debt can be settled without consequences.
How to Help Yourself
Anything a debt settlement company can do for you, you can do for yourself. The FTC suggests you contact your card issuer at the phone number on your account statement. Even if you've been rejected before, keep trying. Be persistent, polite and ready to explain how you got in over your head and what you're willing to do to dig yourself out. The FTC also suggests working with a nonprofit credit counseling service. These nonprofits help people plan how to repay their debts but don't charge the high fees of settlement companies. Look for a service approved by the U.S. Trustee Program -- the agency that supervises bankruptcy cases.