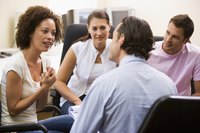 The 5S principle started in Japan as a set of methods used to build and maintain forward momentum and streamlined processes. The five Japanese words used to establish the principle translate into English as Sort, Set, Shine, Standardize and Sustain. The objectives of 5S include creating a more structured work space, maintaining the discipline needed to complete tasks efficiently and following specific rules and standards.
Start Small
When implementing 5S principles, as with any new business practices, many businesses make the mistake of attempting to reinvent the wheel across all their various departments, product lines and processes. The best way to start developing 5S practices is to start with the smaller, less-critical tasks. As the employees become accustomed to the new practices, managers can scale up to bigger and more vital processes. This approach allows for a smoother and more efficient transition to the new methodology.
Tools and Training
Two vital aspects employees need to implement 5S methods are proper tools and adequate training. Tools can include label makers, recycling bins, three-ring binders and cleaning supplies. All of these tools should be kept in easily accessible areas to allow for quick and efficient use as needed. Training in 5S methods can include classroom seminars, instructional videos and written manuals that outline the processes and establish their benefits, both for individual employees and the company as a whole.
Leadership as Examples
Participants at every level of the company should follow the 5S principles to maintain a consistent approach. If employees are expected to follow the new guidelines, they also will expect management to engage in the same practices. Management can serve as an example in how to implement and maintain the new processes. If employees or low-level managers are having difficulties in following the new practices, upper-level managers also can step in and demonstrate how to implement 5S methods.
Practice Makes Perfect
No business can establish new procedures and expect them to be implement smoothly overnight. The establishment of 5S principles is intended to act as an evolutionary, not revolutionary, change in how businesses approach their processes. As a company follows the principles of sort, set, shine, standardize and sustain on a daily basis, each step follows the previous one and each turn through the cycle builds on the positive results of the one before it.