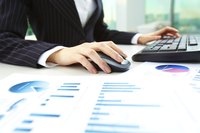 Small-business operators who accept PayPal payments can typically deduct PayPal transaction expenses on their federal taxes. These fees normally include a per-transaction fee based on the amount of payment and higher fees on international transactions.
Banking Fees
Generally, a small-business operator is able to deduct banking fees directly related to business activities. These fees include initial setup fees and transaction costs to accept payments, according to the "J.K. Lasser's Small Business Taxes 2015." If a payment from a customer is $100, for instance, and the transaction fees are $3.50, the net proceeds are $96.50.
PayPal Fees
Typical PayPal fees for U.S. transactions are 30 cents plus 2.9 percent of the amount. Eligible merchants and nonprofits can pay as little as 2.2 percent of the transaction amount with volume-based discounts. International fees are slightly higher, depending on the currency conversion. Financial institutions, including PayPal, must submit transaction reports to the Internal Revenue Service, according to J.K. Lasser. PayPal fees are deductible in the same way that traditional bank fees are deductible. On a $50 PayPal receipt, the transaction fees are $1.75. The tax basis without factoring in other fees is therefore $48.25. Transaction expenses are included on Schedule C of IRS Form 1040 for sole proprietors.