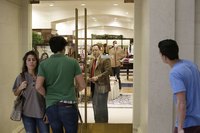 Holding a clearance event to move products off of your shelves is a common event in the retail world. While a clearance sale indicates you couldn't sell all of the merchandise at regular prices, you need to make up for lost time -- and sales -- by getting people to buy so you make some profit on your initial investment or at least don't lose as much money. The key is implementing advertising strategies that make shoppers flock to your event because they perceive value in the discounts you offer.
Go Seasonal
Avoid leaving seasonal products in your warehouse shelves where they just take up space. Instead, plan a clearance event that ties into the season that just ended, such as right after Christmas or as winter ends. Use email, print ads in local papers and fliers at neighboring shops to highlight the merchandise that will be on sale. Post big banners and posters in your windows to advertise the sale dates and the percentage that merchandise will be marked down. Start some buzz on your social media pages with photos and descriptions of merchandise.
Gradual Markdowns
Advertise your clearance discounts at 10 or 20 percent off for the first few days to gauge the response. If you want the products to move faster or shoppers don't seem inclined to buy, increase the discount to 25 percent or higher. Only when you have to move everything off the shelves, such as to make room for new merchandise, should you sell products at the highest clearance discounts. If you're in a hurry, generate some excitement and repeat business with a Dutch auction -- advertising that the percentage discount will grow by a set amount each day of the week.
Reward Loyalty
Send an email to your best customers to advertise the event. Of course you've been encouraging them at checkout to sign a guest book with their email addresses so you have them on hand. Offer these customers a larger discount than what you're advertising to the public. Send the email just before the start of the sale to thank them for their loyalty and to encourage them to visit your store with the email in hand or on their smartphone to get the extra savings. Not only does this help you move your clearance items, but these tried-and-true shoppers may buy other merchandise while they're in your shop, helping to boost your overall sales.
Make it Fun
Make your clearance sale fun, and play that up in your advertising. For instance, announce that shoppers get to draw a discount amount from a bowl to use on one of the clearance items they buy. Include BOGO -- buy one, get one free -- discounts in the bowl and publicize that customers could win that discount when they draw from the bowl. Turn the clearance event into a party held on one day. Bring in entertainment and food, and promote the event via email, on Facebook and in radio and print ads.
Get Ready
As soon as your clearance event is finished, plan the next one. Advertise the success of the event you just held by posting photos and comments from shoppers on your social media pages. Ask people to visit your website and sign up to receive emails about upcoming events and sales. This helps turn your clearance event into an even bigger success as you obtain email addresses from people to whom you can promote your store.