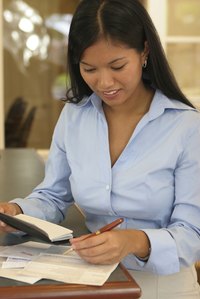 You can deposit checks into a savings account whether or not your checking account is overdrawn. If you have overdraft protection, however, the bank will automatically transfer the funds to checking, anyway, according to the terms in your account agreement. Regardless of your bank's policy, a deposit into savings may allow you to access your funds, but doesn't eliminate the obligation to settle the overdrawn account.
Bank Transfers
If your accounts are at the same bank and are linked together, your bank may be able to transfer money from savings to checking regardless of whether you approve the transfer. This depends on your account agreement, and the particulars for such transfers should be clearly noted. In addition, if you signed up for overdraft protection, the funds will be transferred, often with a fee attached.
Extended Holds
Even if your money stays in savings, you might not be able to get your cash right away. Banks are allowed to place a reasonable hold on checks through the reasonable cause exception of Federal Reserve Regulation CC. One of the reasons a banks may place an extended hold on a deposited check is the repeat overdraft exception. This usually happens if your account has been overdrawn more than six days in the past six months, or just two days if it's been overdrawn by more than $5,000. Moreover, the hold can be applied to any or all of the depositor's accounts, so an overdrawn checking account can restrict access to savings deposits as well.