Cooking a piece of meat over a fire might seem about the simplest form of cooking there is, but it's a surprisingly nuanced process. The Internet bristles with steak-grilling advice, much of it contradictory, outmoded or just plain wrong. These quick tips cover the highlights so you can spend your time grilling instead of searching the Web.
(Kristyn Robertson/Demand Media)
Salt your steak just before it goes on the grill, or 45 minutes or more ahead. Nothing in between. Salt draws juices from the meat, but given an hour they'll get reabsorbed and season your steak deeply.
Kristyn Robertson/Demand Media
Apply dry spice rubs ahead of time so the steak's own juices can moisten the spices and help them cling to the beef. A couple of hours is good, and overnight is better.
Kristyn Robertson/Demand Media
Marinate your steak briefly. Even brushing on a simple marinade at the last minute imparts flavor, though long soaking brings little additional benefit.
Kristyn Robertson/Demand Media
With steaks, fat equals flavor. The more richly marbled your beef is, the less help it needs. Lean steaks benefit most from spices and marinades, while well-marbled cuts are fine with just salt and pepper.
Blot your steak dry when it comes from the refrigerator. Surface moisture turns to steam on the grill, squandering its heat and slowing browning. It's okay to leave an oil-based marinade in place, but mop up any excess with paper towels.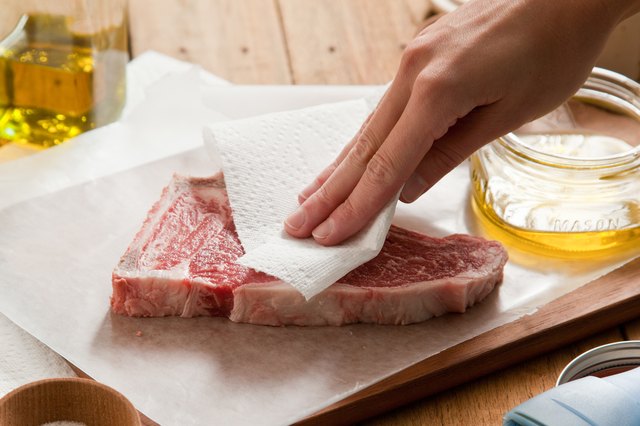 Kristyn Robertson/Demand Media
Brush your steak lightly with oil or clarified butter to promote browning. If your steak has a dry spice rub, mist it with oil to keep the spices from burning as the steak grills.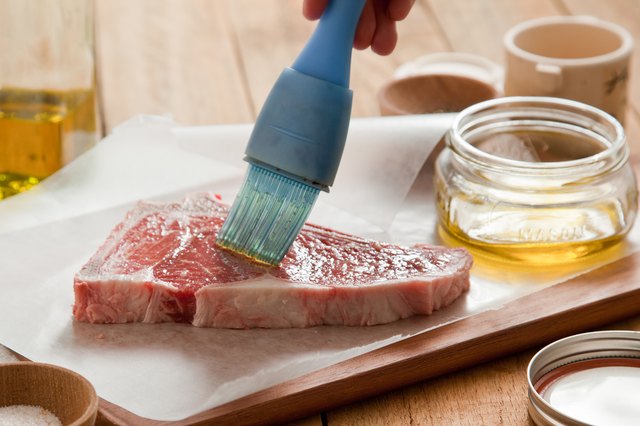 Kristyn Robertson/Demand Media
Don't bother letting your steaks warm up. It's a food safety risk, and unless they're super-thin, they won't warm appreciably in the middle before you grill them.
Relatively thin supermarket-cut steaks -- under an inch thick, and usually 3/4-inch or less -- are best cooked at high temperatures. Preheat your grill to 400 degrees Fahrenheit or higher, and cook until the first side is perfectly dark brown. When you flip it, the steak will be mostly cooked already, so don't try to brown the second side. Give it just a minute or two, depending how done you like your steaks, then get it onto a plate.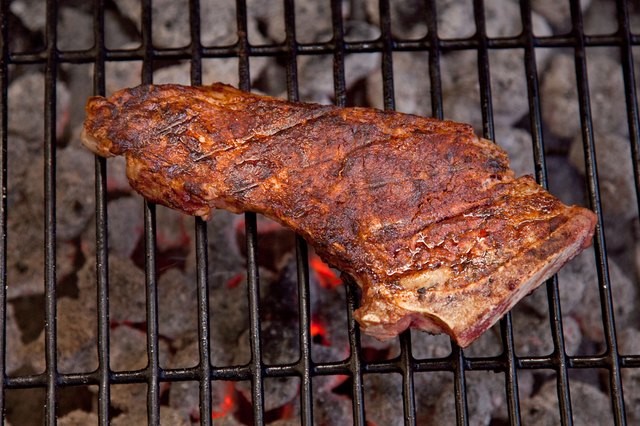 Kristyn Robertson/Demand Media
Thick steaks of 1 to 1 1/2 inches or more are best cooked in two stages. Cook them gently at 325 F until they're within 10 degrees of your preferred doneness, then crank your grill to 450 F -- or place the steaks directly over the hot coals -- to sear them at the surface.
Kristyn Robertson/Demand Media
Use a good-quality instant-read thermometer to judge when your steaks are done. With experience you can often tell by eye or by touch, but a good thermometer is the only way to know for sure.
Promoted By Zergnet