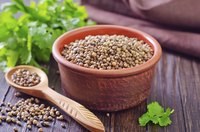 Some spices have stimulatory effects on the digestive system but will not keep your body stimulated enough to prevent you from sleeping at night. In fact, improved digestion from some spices may help you sleep better if indigestion keeps you up. On the other hand, some people who suffer from acid reflux and heartburn feel certain spices may irritate their stomachs, which may make it difficult to get to sleep.
Spices that Stimulate Digestion
According to a study published in the "Indian Journal of Medical Research" in 2004, spices such as coriander, cumin, curcumin, garlic and ginger stimulate the gastrointestinal tract, speeding up and smoothing out the digestion process. They work by increasing the flow of saliva and stomach juices to aid in digestion or stimulating the liver to secrete more bile acids to improve the digestion and assimilation of fats. If you tend to experience indigestion at night that keeps you up when you're trying to sleep, incorporating these spices into your foods may help prevent indigestion.
Spices That May Cause Indigestion
While some spices may help you sleep better at night by preventing digestion problems, others may cause them and end up keeping you awake at night. Acid reflux and heartburn can occur more easily at night when you lie down for bed with a full stomach, since the stomach will press against the esophagus. If you've eaten spicy food, in which cayenne or other types of hot peppers were used, you may be risking acid reflux and heartburn at night, since these spices are known to cause these symptoms.