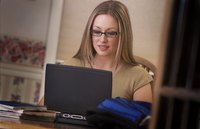 The Industrial Commission of Arizona runs the Arizona Workers' Compensation program. The no-fault insurance program provides coverage for the medical expenses and lost wages for injuries and illness suffered on the job, regardless of who is at fault. Medical benefits and compensation are awarded on a temporary or permanent basis, depending on the prognosis of the injury or illness.
The Employer's Responsibility
Employees don't pay for workers' compensation. Under Arizona state law, employers are required to provide workers' compensation insurance to employees. Even if you only work part-time, the employer is required to provide you with coverage. Employers are required to post a notice of coverage as well as a notice explaining your right to waive coverage. If you don't want to be covered, you'll need to complete and submit a rejection form to your employer prior to an on-the-job injury.
Eligibility
Your injury is covered under workers' compensation if it's job-related. However, the injury doesn't necessarily have to occur on the job. If an injury or illness comes on gradually that you suspect may be related to your job, inform your supervisor. You're responsible for making sure the injury is reported to the employer. Claims must be filed within one year of the injury or illness to qualify for coverage.
Filing a Claim
If you suffer a life-threatening injury on the job, seek emergency help immediately. Let your medical providers know the injury or illness is work-related. If you aren't experiencing a life-threatening injury, seek first aid and notify your supervisor right away. Your supervisor must complete a Supervisor's Report of Injury, which states the details of the injury and how it occurred. You can call 602-542-8583 within 48 hours to report the injury to the ICA.
Required Form
When you seek medical attention, you'll be given a Worker's Report of Injury form, which asks questions about the injury, cause of the injury and treatment received. By signing the form, you're applying for benefits. The hospital or doctor's office submits the form on your behalf. An adjuster is assigned to your claim and will review the details of your injury. You'll receive confirmation of the claim from the ICA within two weeks. You can typically expect a decision from the employer's insurance company within three weeks.
Benefit Amounts
If you're approved for benefits, they begin the date you're injured and continue until you recover. Payments for a temporary disability are determined by a percentage of your average monthly wages. As of 2015, temporary compensation is 66 2/3 percent of your wages at the time of injury, subject to a maximum of $667.36 a week. If the injury is permanent, you may continue receiving benefits if you can't work or your earnings are reduced due to the injury. Permanent benefits take into consideration your age, education, previous occupations, physical limitations and wages to determine the benefit amount.
Appealing the Decision
You have 90 days from the date you receive a decision from the ICA to file an appeal if your claim is denied or you disagree with the benefit amount. A hearing request form is available on the ICA website. After submitting your request for an appeal, you'll receive a letter telling you when the hearing is scheduled.