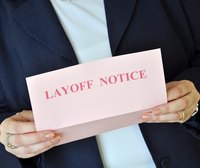 Some people mistakenly consider the terms "layoff" and "retrenchment" to be interchangeable. Even though they mean different things, they do relate to each other in the sense that retrenchment can be an early warning sign that layoffs are coming. In general, the main difference is that retrenchment is a business strategy, while layoffs are an action step.
Strategy Versus Action
Retrenchment is much the same as downsizing. The goal is to increase financial stability by reducing expenses. This can mean anything from discontinuing product lines that aren't selling to closing a satellite store to consolidating operations. Layoffs, which are job terminations for other than disciplinary reasons, often enter the picture as an unfortunate consequence of retrenchment strategies. As the World Bank International Finance Corporation notes, layoffs most often occur due to a reduction in staffing requirements that result from retrenchment activities. However, best practice recommendations do not advocate massive layoffs. Instead, they encourage any business undergoing retrenchment to limit the number of layoffs to only those that are absolutely necessary, mainly to avoid loss of productivity, declining employee morale and commitment and a decline in economic performance.