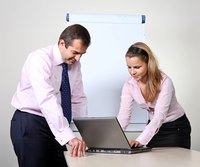 A lot of cubicle dwellers and people living paycheck to paycheck dream of escaping the drudgery of the day-to-day to start their own businesses. While there are no laws that prevent you from starting your own business while you are currently employed, there are other concerns and limitations you need to consider before taking the plunge.
Legality
When a person asks if something is illegal, they are asking if there is a statute or law that prevents the person from taking an action. Apart from laws that limit what kinds of business you can start, such as preventing you from building a factory in the middle of a residential neighborhood or preventing you from opening a brothel, there are no laws that stop you from starting a business while you're employed.
Contractual Limits
While it is perfectly legal to start your own business when you are still working for someone else, you need to be careful that your activities do not violate contractual obligations you may have. For example, some employers require employees to agree to a non-competition clause as part of the employment contract. If you violate the terms of a non-compete clause, your employer can sue you for breach of contract. This doesn't make your action illegal, but it does expose you to civil liability.
Time
Starting a business takes a lot of time. If you're already employed and want to start a new venture, your time will be greatly constrained. If your business takes up so much of your time that it starts interfering with your job, your employer might use this as a basis for terminating your employment. Starting a new business while employed risks not only your job and source of income, but also the new business.
Money
Starting a new business usually takes a certain amount of funding. If you're relying on your current job as a source of start up capital, you'll have to ensure that you can still keep your job while starting the new business. Some businesses can be started with a minimum effort of time and capital, but cutting off a stream of income while your business is in its early, and non-profitable stage, is risky.