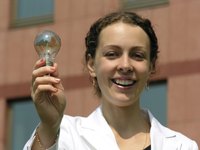 Business ideas are the unifying thoughts and objectives that business plans (and eventually companies) are built on. Choosing the right idea for your business plan is one of the most important steps of starting a successful business. No matter how elaborate your business plan is, if your idea isn't executable, useful, and timely, you may have difficulty succeeding. Frequently, successful business ideas solve problems.
Green Energy Related Businesses
The demand for green energy has made itself known through various inventions (such as hybrid cars, photovoltaic solar panels, waste to diesel). Consider joining two or more separate green businesses with different technologies and combining them to increase efficiency. Further, talk with local businesses and discover their problems with respect to operating in a more environmentally sound way. If you find the same recurring problem, you may have an idea worth pursuing.

Online Businesses
One notable edge that some online businesses give you is the ability to start with lower expenses. If you're great at promotion, consider affiliate marketing, where you market other company's products on your websites or networks. If you don't like sales, consider a research business. Your business will research and fact-find for various organizations.
Social Entrepreneurism
If your sights are set quite a bit higher and you want to make a bigger impact through your business, try social entrepreneurism. As a social entrepreneur you will endeavor to solve pervasive social problems while identifying opportunities to make your business sustainable through monetization. As a striking example, Mimi Silbert founded the Delancey Street Foundation in San Francisco, where drug addicts, criminals, and the homeless are transformed into productive citizens–without any government funding.
Combine What You Love To Do and What You're Good At
Regardless of the idea you eventually select for your business plan, pay attention to your enthusiasm. If you're confused, recall what others say you're good at. It's likely that what you are good at you also enjoy. This is vitally important to your business because you will probably spend significant amounts of time growing it. Successful business plan ideas are generally simple solutions to long-standing and unchallenged problems. Go forth and solve them.