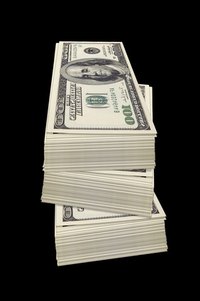 Most employees receive a wage or salary that is exclusively based on level of experience, skill level and education. For high-ranking executives at a corporation or business, salary is usually composed of a complex set of factors that reflect a company's culture and long-term goals — factors that typically make up a company's compensation policy.
Attracting Talent
The business world is constantly marketing itself, both to clients and to prospective employees. A business can make itself more attractive to educated and accomplished talent by offering significant incentives to those who join its ranks. This usually means a compensation policy that is in line with an potential employee's expectations, the company's ideals and the compensation of other top executives in the industry.

Compensation
Executives usually consist of the top five to seven people at a company. When considering a compensation policy for its top executives, a company will take into consideration an applicant's current standard of living, previous salary and any applicable relocation expenses. An executive's financial compensation often consists of a base salary, that reflects the value an employees day to day activities, and a bonus structure that is usually 40 percent to 50 percent of the base salary, and in some cases as much as 100 percent.
Benefits and Perks
While most regular employees do receive some type of retirement plan, top executives usually receive top stock options, and retirement plans that consist of a combination of the best features of 401K and IRA plans. Likewise, health club discounts, preferred parking, profit sharing and tax relief plans such as deferred payment are often offered as well. Should a top executive be fired, he will typically still receive a severance pay, equal to a minimum of one year's salary.

Debate
Executive compensation has long been an issue in the United States. Some argue that compensation is too high and point to the fact that U.S. executives make five times more than top executives in other countries, while others feel that the compensation is justified based on the contributions top executives make to a company. Certain temporary laws have already been passed to limit compensation like executive bonuses; however, no long term laws have been passed yet.