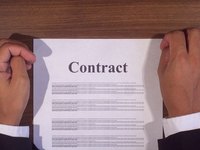 A lease agreement for a restaurant discusses the terms and conditions between the two parties bound in the lease, often referred to as the lesser and lessee. This type of lease is used when a person owns the restaurant space, but wants to lease it out to someone who wants to open and run a restaurant. The restaurant lease outlines rules and regulations set by the original owner that must be respected by the lessee.
Description and Purpose
A restaurant lease agreement provides a description of the parties involved in the lease. This includes the names of the lesser and lessee along with contact information for both individuals. It includes a brief description of the restaurant space and the geographical area. The purpose of the lease agreement is also outlined. For instance, explain that the restaurant is being rented with the purpose of becoming a cafe, upscale restaurant or a breakfast restaurant.
Rental Period and Payments
The restaurant lease agreement is available to the lessee for a specific period of time. The lessee is able to renew the lease agreement in case the restaurant is successful and the lessee wants to keep it open. The agreement outlines what monthly rental payments are expected by the lesser each month, along with down payments or security payments.
Maintenance and Repairs
The restaurant lease space may be subject to maintenance and repairs during the set lease period. The agreement explains who is responsible for repairing or maintaining the property; that is, who pays to bring a plumber or electrician to the property, if needed. Often, the individual responsible for paying for the utilities are responsible for maintenance and repairs.
Taxes and Insurance
Since the restaurant is located on a geographical space, it will be subject to property taxes. It will also be subject to property insurance and insurance to protect the items within the restaurant, in case of a fire or burglary. The lease agreement outlines what taxes or insurance plans are available to the lessee and which party is responsible for these fees.
Utilities
A lease agreement lists the utilities necessary for the restaurant to function. This includes gas, water and electricity. If the restaurant office is operating on the same premises as the restaurant itself, the utilities may also include Internet services and telephone bills. The lease agreement explains who is responsible for paying the bills on a monthly basis, which is often the lessee's responsibility.
Additional Considerations
A restaurant lease also contains common default clauses to protect both parties in the lease. These clauses include a merger and integration clause, a law and forum clause and an unfair terms clause (see resources). The lesser may also add a section discussing what is allowed in terms of structural changes or alterations to the property. Other sections include rules and procedures regarding subletting and witnesses during the signing process. Write a restaurant lease that suits the particular restaurant in question.