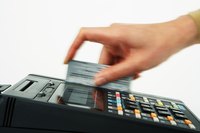 If you have a poor credit history or are looking to establish your creditworthiness for the first time, a secured card may be your best or only option. Because secured cards dramatically lower the risk that a bank will lose money because of a default, a secured card is easier to get. If the issuer reports your activity to the major credit bureaus, such a card can make it easier for you to obtain credit in the future.
Reduces Bank Risk
Secured credit cards require you to advance the funds for your credit line. If you want a credit card with a $500 limit, for example, you'll have to write a check to the issuer for $500 to cover that amount. That money won't be used to pay off your balance every month. It serves as a guarantee for the issuer that if you don't pay what you owe, it can transfer funds from that deposit to cover it. You'll be responsible for the bill-paying, just as with a regular card. You'll still have to apply and be approved, but a secured card is easier to obtain because the bank's risk is less.
Credit Report Impact
Most secured cards report your monthly activity to the credit bureaus. Because of that, if you manage your account well, your credit score should improve. Some aren't labeled as a secured card at all, which can make your credit profile more attractive. Not all secured card issuers report, however, so make sure your prospective card offers that service. If not, no other potential creditor will be able to see your record on that account and it won't impact your credit score.
Manage Credit Carefully
For a secured credit card to help your credit, you must manage it well. Pay off your balance in full, on time, every month. This keeps your credit line intact and all the reporting on your account positive. To make this easier, pick cards without high fees and with reasonable interest rates to avoid getting caught with a rising balance that you can't keep up with.
Moving to an Unsecured Card
If you manage your secured card well, you should be able to gain approval for an unsecured card after about a year. Some issuers will switch you automatically if they offer both options. Even if yours doesn't, you'll likely start receiving offers after 12 to 15 months of on-time payments and no other negative credit information. Once that happens, you can close the secured credit card account and get your deposit back.