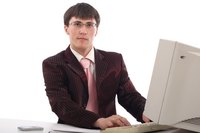 The insurance industry employed nearly 2.3 million people as of 2008, the U.S. Bureau of Labor Statistics reports. Demand for insurance services will increase through 2018, but more slowly than employment rates in most other industries. This means you must recognize the benefits and importance of marketing for helping you position your insurance business ahead of the competition.
Build Your Brand
Marketing your insurance services can help you establish name recognition in the insurance industry. Building a "brand" for yourself can help position you as a credible expert in your field. Whenever someone in your network of contacts hears a friend or family member talking about how they are shopping for insurance services, you want your name to come up. Marketing can help you do this.
Gain and Retain Referrals
One of the best ways for insurance professionals to gain more clients is through referrals marketing. As an insurance professional, it is not difficult to develop a referral program that you can market to clients for years to come. Develop a program in which you offer a commission or "finder's fee" for current clients or people in your network who refer someone who ends up purchasing insurance services from you. In most cases, people will be happy to give you a lead or two if it means more money in their pocket.
Establish Trust
Another benefit of marketing for those in the insurance industry is it helps you develop trust among clients and prospective clients. When selling insurance products or services, one of the most important aspects of your business is establishing trust. Clients are entrusting you with sensitive, personal information when they buy insurance services, and marketing can help position you as a trustworthy professional. For example, you can develop an email marketing campaign in which you send weekly insurance tips, offers and advice for your clients and prospects, which helps position you as an expert and nurtures a relationship with these clients.
Increase Profits
One of the clear benefits of marketing is it can help increase profits by bringing in more clients for your insurance business. Insurance companies often use marketing tactics such as television and radio ads, direct mail and paid search campaigns to help sell the features and benefits of their insurance products and services. Ultimately, you want your marketing materials to help sell your insurance products, and provide a positive return on your investment.