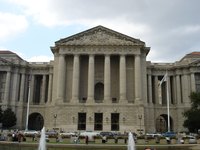 "Comprehensive" coverage means covered unless excluded. "Commercial" coverage is for businesses. In 1985, after a flurry of environmental litigations, including asbestos claims; workplace harassment suits; and other liability claims cost the insurance industry billions, companies decided to limit their liability through a new policy form. The "comprehensive" form morphed into the "commercial" form.
Modern Technology and Long-term Effects
Asbestos presented the opportunity to insulate and fireproof spaces in one application. Years later, the long-term, negative effects of exposure to the substance were discovered and asbestos-related health claims became problematic for liability carriers. Microwave reception in cell phones and potential brain diseases also concerned some authorities. Since long-term effects cannot be thoroughly tested without product use, in 1985, insurance companies decided to limit their liabilities on undiscovered, unknown and potentially limitless losses.

Primarily, It's About the Aggregate Limit
Prior to 1985, each liability coverage on such things as premises, products or contracts, had its own limit of liability. However, the policy did not have an overall aggregate limit, in which all liability claims associated with the policy added together do not exceed this limit. The Commercial General Liability Insurance form implemented an aggregate, or policy, limit with all underlying separate limits included. Now, premises liability might have an occurrence, or incident limit, and an aggregate limit, as with products liability. But the policy limit might be less than the total sum of the underlying limits.

Environmental Liabilities
In the mid 1980s, environmental liability issues arose with the Environmental Protection Agency (EPA) and leaking underground storage tanks. Under comprehensive insurance, environmental liability was not excluded; therefore, the coverage automatically and retroactively went into effect. This event could potentially cost the insurance companies billions. When the commercial policy became common, the insuring agreement named environmental liability as a coverage, but severely limited, usually down to $25,000, the amount of coverage. The companies gave lower limits to avoid court cases regarding the inclusion of coverage.

Employment Practices Liability
Discrimination, sexual harassment, hostile workplace and retaliation are relatively new terms to the employment lexicon. The practices, though, have a fairly long history. The comprehensive form, written on an occurrence basis, did not limit business liability well in these areas. The commercial form added this coverage as a separate endorsement limiting the aggregate liability, meaning the insurance company would not be required to pay damages to an unlimited number of claimants.